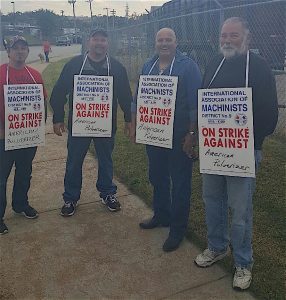 IAM Local 41 and 313 workers in St. Louis have been on strike more than 12 weeks after contract talks with American Pulverizer failed over the company's attempt to severely strip workers of their labor rights and benefits.
IAM District 9 will be holding a "Solidarity Rally" on Wednesday, January 25 in support of IAM Local 41 and 313 members on strike at American Pulverizer in St. Louis.
IAM International President Bob Martinez and Midwest Territory General Vice President Philip J. Gruber will be joining IAM members on the picket line for the rally.
See IAM District 9's "Solidarity Rally" flyer.
The workers went out on strike 12 weeks ago when negotiations failed over the company's proposal to roll 87 percent of health care costs onto the members, offer minimal and inconsistent wage increases, take away premium pay for overtime, and not guarantee holidays off. The company also wants workers to use their vacation time for things like medical leave, FMLA, and time off due to workers' compensation. In addition, American Pulverizer wants to strip away workers' rights to take part in union activity and change the "management rights clause" to give the company the ability to arbitrarily change work rules as it sees fit.
Contract talks, which reconvened in recent days, have failed again, says IAM District 9 Directing Business Representative Mark Conner.
"Contract talks with American Pulverizer failed yesterday because the company is not bargaining in good faith," said Conner. "American Pulverizer is turning its back on the very IAM members who, since 1948, have helped build and create the company into one of the largest and well-known manufacturers it is today. A company that manufactures the most dependable rock and coal crushing equipment in America."
These recent egregious proposed changes come after contract talks in previous years where the company stripped workers of their IAM health and welfare and IAM pension plans.
"Throughout the last two contracts the company has been stripping benefits away from our members," said District 9 Business Representative Joe Eccardt. "Our members finally said 'enough is enough' and hit the picket line, fighting to protect what they have left."
District 9 has filed an unfair labor practice charge with the National Labor Relations Board.
As the strike continues, IAM District 9 says those on the picket line have been grateful to brother and sister union members who have shown support, including members of Gas Workers Local 11-6 and Teamsters Local 688, who have been bringing food and firewood.
The District says members of the community have also shown their support. The Humane Society has been allowing strikers to use their facilities when needed. And Boyer Fire Protection, located next door to American Pulverizer, has been allowing strikers to use their facilities for storage and personal matters.
"Thank you to all our union brothers and sisters and the community for your support," said Conner, "but it's not over. We still need you. Come out and help us send a message of solidarity for IAM Local 41 and 313 members fighting the fight for all of us and our families."
The rally will be held on Wednesday, January 25, 2017, from 1-3 pm in front of American Pulverizer, located at 1319 Macklind Avenue, St. Louis, MO.
See IAM District 9's "Solidarity Rally" flyer.
The post St. Louis IAM District 9 to Hold Solidarity Rally for Striking Members at American Pulverizer appeared first on IAMAW.
Source:: iMail