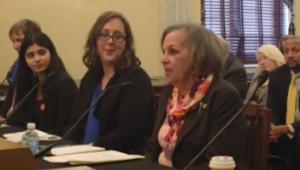 Washington, DC area IAM Retiree Diane Fleming gave testimony on Capitol Hill about the importance of having Medicare and the Affordable Care Act in her fight against thyroid cancer.
In the midst of Congress' debate over the nomination of U.S. Rep. Tom Price (R-GA), Sens. Debbie Stabenow (D-MI), Elizabeth Warren (D-MA) and Patty Murray (D-WA) hosted a forum that included testimony from IAM retiree Diane Fleming, who has benefitted from Medicare and the Affordable Care Act.
Fleming and four other women were invited to deliver testimony in an effort to include outside witnesses who could speak to the consequences of Price's policy views should he be confirmed as Health and Human Services Secretary.
Click here to watch Fleming's testimony.
"Five years ago, I was diagnosed with thyroid cancer. Since then I have had four surgeries and radioactive iodine treatment twice. The cancer has reoccurred and I will need to have surgery again," said Fleming. "I don't know how I would have been able to have these treatments and tests done without Medicare."
The panel of witnesses spoke about each of their stories and then answered questions from the 12 senators in attendance.
Click here watch the entire forum.
The IAM and more than 80 organizations strongly oppose Price's nomination. There is still time to tell your senators to vote "no."
The post IAM Retiree Testifies Against Healthcare Attacks appeared first on IAMAW.
Source:: iMail