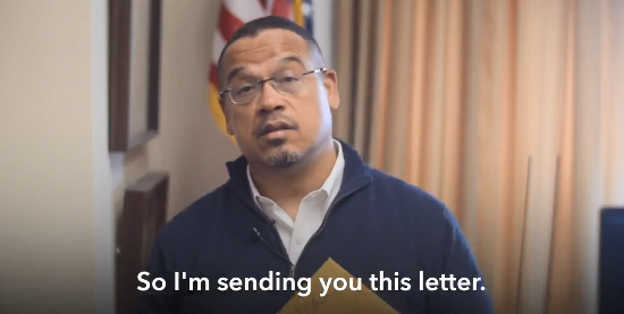 U.S. Rep. Keith Ellison is making an open appeal to Electrolux to reconsider its decision to close a St. Cloud, Minn., plant and lay off more than 900 IAM Local 623 members. In video and written messages directed toward the company's North American CEO, Ellison calls on Electrolux to show loyalty to its highly skilled and dedicated IAM workforce.
"I hope that when you think about this decision, which you can still change, that you think about all of the hopes and the dreams and the aspirations that people who served your company for so long are now being upset and turned around," says Ellison.
.@ElectroluxUS plans to close their St. Cloud, Minnesota factory, displacing 1000 of their workers. Why? To chase non-union labor & tax cuts. I'm making an open appeal for them to reconsider. pic.twitter.com/PLJpNCraT4

— Rep. Keith Ellison (@keithellison) March 2, 2018
Ellison's letter asks the company to change course and consider the impact on its workers and St. Cloud.
"Minnesotans have worked at this plant for generations before Electrolux acquired it, and the factory continues to play a vital role in St. Cloud's community and economy," wrote Ellison. "The community will be devastated while Electrolux receives a tax break."
READ: Ellison joins other elected officials asking Electrolux to reconsider St. Cloud Times
Ellison is the latest Minnesota elected official to apply pressure on Sweden-based Electrolux. U.S. Sens. Amy Klobuchar and Tina Smith, along with U.S. Rep. Tom Emmer, wrote a letter to CEO Jonas Samuelson, asking him to "reconsider your decision as soon as possible."
The IAM continues to deploy all resources necessary to assist members at Electrolux.
"Electrolux has been operating in St. Cloud for 30 years and these workers deserve dignity and respect from Electrolux and we are demanding that the company rescind its decision to close," IAM International President Bob Martinez recently told delegates to the Minnesota State Council of Machinists. "The IAM is taking a stand against these companies who are turning their backs on U.S. workers."
Since 2004, the company has closed three Midwest factories and one in Canada. Electrolux maintains that it will close its St. Cloud manufacturing plant by the end of 2019.
The post Rep. Ellison to Electrolux: 'Call Me' to Save IAM Jobs at Minnesota Plant appeared first on IAMAW.
Source:: iMail