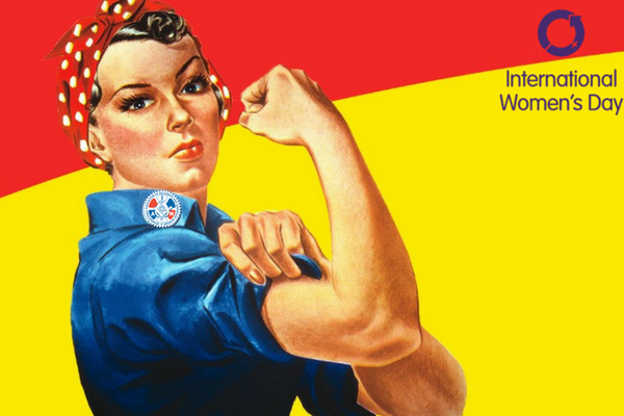 International Women's Day is held annually on March 8 to recognize the achievements of women throughout history. Today our union pays homage to the courageous women—known and unknown—who have dedicated their lives to fighting for the dignity of all people.
The Machinists Union is blessed to have so many women leading the charge for justice on the job, including General Secretary-Treasurer Dora Cervantes, the highest-ranking woman in IAM history and a well-known champion for all working women.
Here's some of what's being said to recognize International Women's Day—in the IAM and around the labor movement:
On #InternationalWomensDay, I see women running for office and raising their voices to champion the most important fights for justice and equality. Under my watch, the @MachinistsUnion will have their backs every step of the way. #1uWomen

— Robert Martinez Jr. (@IAMBobMartinez) March 8, 2018
On International Women's Day we must end Gender Based Violence!

They reported sexual harassment. Then the retaliation began https://t.co/CZRjEn8Xap

— Rhonda Rogers (@IAMRhondaRogers) March 8, 2018
Strong Daughters! Strong Mothers! Strong Sisters! We are surrounded by powerful women activists who make our Union better, and Stronger! #IWD2018 https://t.co/vS3miaAAlO

— Stan Pickthall (@stayrocksolid) March 8, 2018
Celebrating all Women on #StrongerThanStrong #InternationalWomensDay
#BeastFromTheEast #1u #UnionStrong #ThursdayThoughts pic.twitter.com/1d78y9rTxv

— Machinists Union ET (@IAMAW_EastTerr) March 8, 2018
Heather Kelley on Labour's contributions to Int'l Women's Day https://t.co/lLGJt7Ztuw

— IAMAW Canada AIMTA (@iamawcanada) March 8, 2018
Happy International Women's Day! (IWD) #iwd #iwd2018 #internationalwomensday #internationalwomensday2018 #PressforProgress #womenunite #iamaw pic.twitter.com/t3JIaPbZqV

— IAMAW Local 2323 (@IAMAW2323) March 8, 2018
In honor of #internationalwomensday we would like to celebrate all of the wonderful women that make GDA possible. It is through the strength of our female employees, puppy raisers, volunteers and especially graduates that we are able to make teams come t… https://t.co/V9GAgaJF4u pic.twitter.com/nVJgejvVBf

— GuideDogsofAmerica (@GuideDogsGDA) March 8, 2018
On #InternationalWomensDay, working people in unions reject sexual harassment & workplace violence. Read more from @RichardTrumka on Sexual Harassment and Labor's responsibility. https://t.co/czu9AKuKP4 pic.twitter.com/rY5hzPSiNa

— AFL-CIO (@AFLCIO) March 8, 2018
It's going to take all of us to win #genderjustice. We must all work together to combat gender discrimination & promote women's leadership. #TimeIsNow @TIMESUPNOW

— CLUW National (@CLUWNational) March 8, 2018
If you work hard, you deserve time off during the holidays to see your family.

Just ask RWDSU member Paula Phillips from the Nestlé​ plant in McDonough, Georgia, where they ratified their first union contract just last week. #InternationalWomensDay #1u @UFCW @AFLCIO pic.twitter.com/ejqbXM7642

— RWDSU (@RWDSU) March 8, 2018
The post Thank You, Fearless Women appeared first on IAMAW.
Source:: iMail