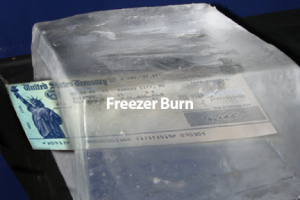 When many people heard the phrase "drain the swamp," they believed it to mean cleaning Washington D.C. of corrupt politicians and lobbyists. President Trump may have been referring to the workers who keep all facets of our government programs running smoothly.
He signed an Executive Order yesterday that prohibits any additional new hires in the federal government, barring some national security positions.
"Freezing hiring in the federal government is a bad idea," said National Federation of Federal Employees (NFFE-IAM) National President Randy Erwin. "It will not achieve savings and it will certainly disrupt the ability of federal agencies to carry out the business of the American people. It is a false belief that a hiring freeze shrinks government because the work is simply outsourced to contractors at greater cost to the American people."
A hiring freeze affects a vast majority of federal agencies, worsening the struggle to keep up with vacancies due to retirements and other departures. The hiring ban will make it impossible for most agencies to hire needed experts, and it will cripple employment opportunities, particularly for women, veterans, minorities and the disabled.
Unions representing federal workers across the country are speaking out against the hiring freeze.
"A hiring freeze will be harmful and counterproductive, increasing backlogs, decreasing service quality and causing more frustration for Americans seeking help from their government," said Tony Reardon, president of the National Treasury Employees Union. "Our government depends upon highly-trained and experienced federal workers being able to carry on with their important work. This puts up a substantial roadblock for agencies."
The post Federal Hiring Freeze Hurts Everyone appeared first on IAMAW.
Source:: iMail