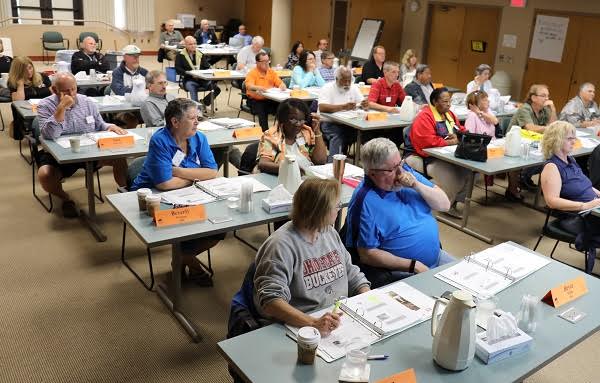 More than 30 IAM retirees and spouses took part in the Retiree Assistance Program at the William W. Winpisinger Education and Technology Center in Hollywood, MD.
More than 30 IAM retirees recently took part in the IAM Retirees Assistance Program (RAP) at the William W. Winpisinger Education and Technology Center in Hollywood, MD.
With the ranks of retired members growing each year, the work of the IAM Retirees Department has become increasingly important. The RAP was established by the department to provide a wealth of information on issues specific to senior-life situations. The program is designed for retired members, spouses and those ready to retire.
"I'm still active in my local and my district," said Havelock, NC Local 2296 retiree Rowlinda Farrow. "And this is information that I can pass on to them."
Throughout the week, the group interacted with experts on topics including mental health, investment education, grief issues, addiction, household safety and nutrition.
"This kind of instruction demonstrates that the IAM is interested in the member from the cradle to the grave," said Edwardsville, IL Local FL406 member Frank Catalano. "I'm retiring at the end of the year and it's good to see that the union recognizes the importance of retirees having a full life in retirement."
"I hope to gain the ability to help my fellow retired members deal with issues that affect the quality of their life," said Montreal, Local 2468 retiree Ed O'Flaherty.
"I participated in the union during my working career. But I'm retired now and the union is still looking after me, and still caring for me."
"I enjoy learning anything that can be beneficial to myself and to be able to bring it to other people," said Deborah O'Flaherty, Ed's wife. "It helps us set up for problems that we are going to face eventually."
The Retirees Department also hosts Retirees Education Strategy Program (RESP) classes, which are designed to help keep retirees active with their union and fellow members across the U.S. and Canada.
For more information about the RAP and RESP programs, please contact the IAM Retirees and Employee Assistance Programs Department.
The post IAM Retiree Assistance Program Tackles Senior-life Issues appeared first on IAMAW.
Source:: iMail