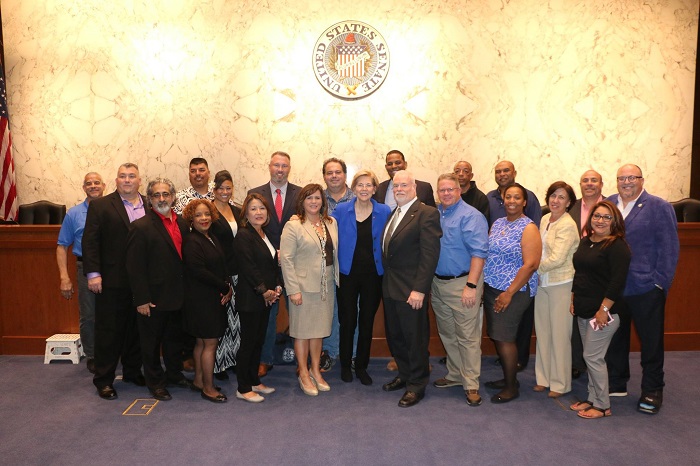 IAM members from across the country gathered in Washington, DC this week to meet legislators and advocate for working people.
"Members of Congress know the Machinists have a reputation in Washington, DC," IAM International President Bob Martinez said to open the 2017 Legislative Conference. "Our members vote, our members are engaged, and our members talk to their friends, family, and union sisters and brothers. We mean what we say. And our members take action."
Martinez discussed trade, retirement security and pensions, good jobs, right to work and more issues facing working people and their unions.
U.S. Sens. Sherrod Brown (D-OH) and Chris Murphy (D-CT) both spoke on the need for a sound Buy America policy to ensure that North American workers have good-paying jobs.
Sens. Elizabeth Warren (D-MA), Maria Cantwell (D-WA), Jeff Merkley (D-OR), Angus King (D-ME) and Reps. Steny Hoyer (D-MD), Jamie Raskin (D-MD) and Anthony Brown (D-MD), along with NFFE-IAM National President Randy Erwin, TCU-IAM Vice President Ron Kloos, and Owen Herrnstadt, IAM Chief of Staff and Director of Trade and Globalization, also spoke on a range of topics at the conference.
IAM General Vice President Diane Babineaux and Bruce Olsson, Assistant Director of Legislative and Political Action were recognized for their dedication and years of service.
At the end of each day, Machinists headed for Capitol Hill, where they met with elected officials to discuss the issues that are important for working families. The activities included a visit with Sen. Elizabeth Warren (D-MA).
"This year's conference brought Fighting Machinists from across the country to Capitol Hill with the sole purpose of promoting our legislative agenda," said IAM Legislative Director Hasan Solomon. "We heard from several influential members of Congress on a myriad of hot topic issues facing American workers. This was a great opportunity for our members to speak truth to power and most importantly hold their elected congressional representatives accountable."
On Tuesday, Martinez was joined by influential politicians, hundreds of Machinists Union members, news media and labor allies to promote the Keep Our Pension Promises Act. The congressional legislation would restore the long-standing rule prohibiting multi-employer pension plans from cutting benefits to current retirees.
WATCH: IAM Intl. President Martinez Pushes for Pension Protection Law
See photos from the Legislative Conference on the Machinists Union Facebook page.
The post Machinists Fight for Working Families on Capitol Hill appeared first on IAMAW.
Source:: iMail