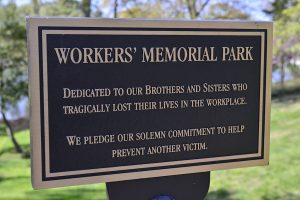 Each year on April 28, we remember our fallen brothers and sisters on Workers' Memorial Day. The IAM Safety and Health Department will honor members who were killed on the job with a Workers' Memorial Day observance ceremony at the William W. Winpisinger Education and Technology Center in Hollywood, MD.
At 11:00 a.m. Friday, watch the program stream live on Facebook and Twitter.
The grounds crew has been busy laying the bricks and preparing the Workers' Memorial site for the ceremony.
Watch: Workers' Memorial Preparations
A new AFL-CIO report reveals that in 2015 4,836 workers were killed on the job and nearly 150 workers died each day from being exposed to hazardous working conditions.
The National Council for Occupational Safety and Health released the 2017 Dirty Dozen report that lists the 12 companies that put workers and communities at risk. The report includes the details of workplace fatalities and injuries and gives recommendations for action.
The post Watch Live: IAM Workers' Memorial Day Ceremony appeared first on IAMAW.
Source:: iMail