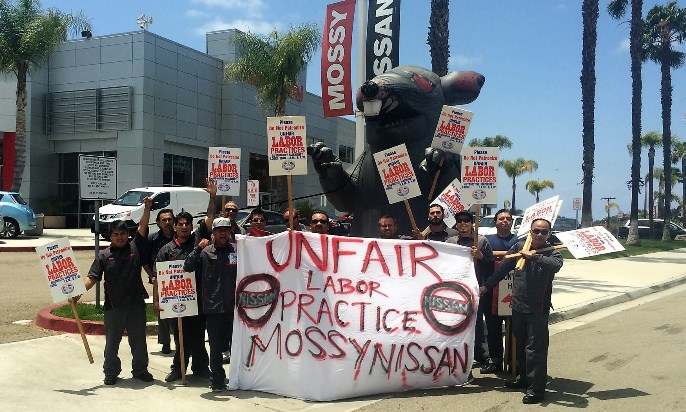 Mechanics at Mossy Nissan in Oceanside, CA voted overwhelmingly to join the IAM, but have since been faced with a tremendous amount of adversity from a staunchly anti-union company.
In spite of being locked out for well over a month, the workers have maintained their resolve and continue to hold a picket line outside the company to make potential patrons aware of the unscrupulous tactics used by management to avoid treating their employees with dignity and respect.
Workers recently held a day of action at two of the company's San Diego area dealerships. The rallies were well attended. District 190's signature inflatable rat made an appearance.
Rat on the roof!!!#mossynissan #Oceanside #KearnyMesa pic.twitter.com/kl5LvJ7pN0

— Big Pedro (@Pedro1977Gomez) March 14, 2017
Wage Theft Unfair Labor Practices SHAME ON MOSSY NISSAN #Oceanside #KearnyMesa #SanDiego #MachinistsUnion @union1484 #SDLaborCouncil #AFLCIO pic.twitter.com/9NvLFkoOGy

— Union Organizer (@union1484) March 14, 2017
"This company is conducting themselves in an unbelievably shameful manner," said IAM Western Territory General Vice President Gary Allen. "Mossy Nissan needs to stop playing games with people's livelihoods and come to the table and negotiate in good faith."
"These workers have shown unbelievable resolve in the face of unspeakable adversity," said District 190 Directing Business Representative James Beno. "I commend them for sticking together and never forgetting their goal of a fair contract for Mossy Nissan mechanics."
Members and activists are encouraged to Call Mossy Nissan and ask for Executive General Manager Sean Hogan at 760-702-3991. Tell him that you and your friends will not be shopping at Mossy Nissan until these workers are put back to work and the company bargains in good faith.
The post These California IAM Mechanics Are Locked Out. Here's How You Can Help. appeared first on IAMAW.
Source:: iMail