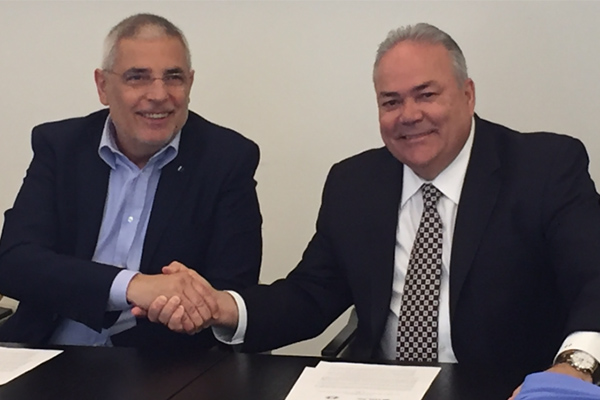 The IAM has signed an alliance agreement with the Federazione Italiana Transporti, or the Federation of Italian Transport Workers (FIT)-CISL, headquartered in Rome, Italy.
FIT-CISL General Secretary Antonio Piras and IAM General Vice President Sito Pantoja.
"The IAM will work closely with FIT-CISL to ensure each of our organizations and our respective memberships continue to grow stronger in the face of mounting attacks on unions everywhere," said IAM International President Robert Martinez.
FIT-CISL represents 120,000 workers in a number of transportation-related industries including civil aviation, rail, freight and logistics, maritime, public transit and infrastructure, among others. In civil aviation, FIT-CISL represents 10,000 airline pilots, flight attendants, ground workers air traffic controllers and catering workers in addition to 20,000 rail workers. FIT-CISL is also active in the International Transport Workers Federation (ITF).
"As the world's largest civil aviation union and the leadership positions we hold in the ITF, the IAM is uniquely positioned to collaborate with unions around the globe to combat cross-border attacks on working people," said General Vice President Sito Pantoja.
IAM International President Robert Martinez and General Vice President Sito Pantoja signed the Affiliation Agreement with FIT-CISL General Secretary Antonio Piras.
The Affiliation Agreement states:
"Globalization in the transportation industry has expanded the world to the point that what impacts each of us, impacts the other. Therefore, we must forge new and dynamic strategies that will have real and meaningful impact on our respective members. In our continued cooperation we will develop concrete programs aimed at strengthening trade union and human rights for transportation workers in North America, Italy and around the world. Our cooperation will also include building a more solid understanding of the general and specific challenges, both domestic and international, that each of our members confront in today's global economy. Our efforts will be guided by our joint commitment to oppose those transportation companies which are oriented solely at obtaining bigger profits at the expense of the workers that are responsible for their success."
Specifically, the agreement ensures the parties will:
Lend appropriate support to each other in case of dispute with an employer.
Implement an interchange of information on expertise and experience gained in the sector.
Jointly review collective bargaining agreements and labor relationships with transport companies and fixed based operators.
Discuss and exchange experiences in order to develop a strategy for better representing our members in the growing global transportation industry.
Develop our cooperation with respect to organizing and collective bargaining.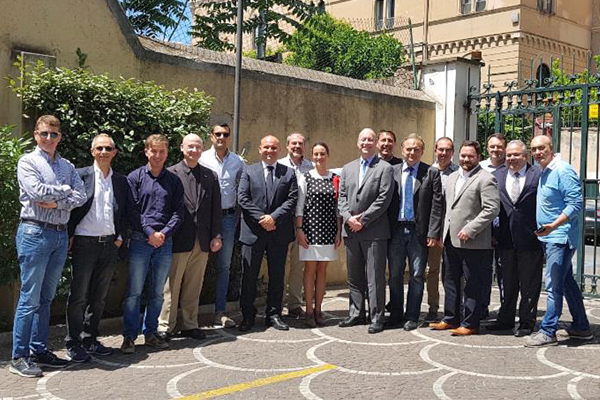 FIT-CISL and IAM delegations meet at FIT-CISL headquarters in Rome.
At a meeting in Rome last week, IAM and FIT-CISL officials discussed the threat cut-rate carriers such as Ryan Air present to workers in the industry, Alitalia's bankruptcy, the IAM's organizing campaign at Delta Air Lines and rail infrastructure in the United States, among other topics.
This is the fifth international alliance agreement the IAM has signed. It is the first agreement signed with a European labor union that solely represents transport workers. In 2010 the IAM signed an Alliance Agreement with the Japan Federation of Aviation Workers' Unions (KOHKUREN), the largest federation of air transport workers in Japan.
The post The IAM Signs Alliance Agreement with Italian Union FIT-CISL appeared first on IAMAW.
Source:: iMail