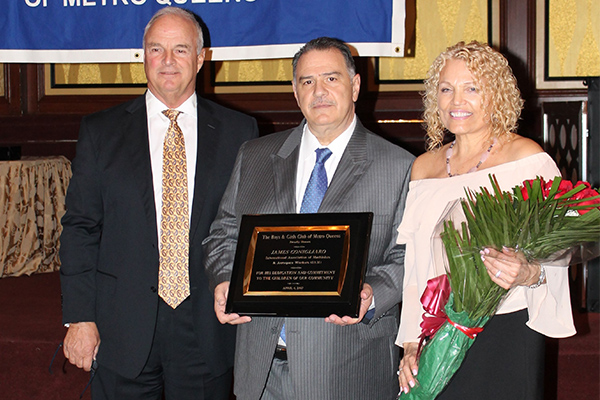 IAM Eastern Territory General Vice President Jimmy Conigliaro, Sr. was honored recently by the Boys & Girls Club of Metro Queens, on the occasion of the "Youth of the Year" annual dinner.
Boys and Girls Club of Metro Queens Board of Directors President Joe Liana, presents Eastern Territory GVP Jimmy Conigliaro, Sr. with the annual Boys and Girls Club of Metro Queens award for Dedication and Commitment to the youth of the Community. Pictured with GVP Conigliaro is his wife, Gissel.
The Boys and Girls Club of Metro Queens is marking its 60th year in 2017, saving and enhancing the lives of New York City youth.
Founded in 1860 The Boys and Girls Club serves "to inspire and enable all young people, especially those who need us most, to reach their full potential as productive, caring and responsible citizens." With character development as the cornerstone of the experience, the Club focused on capturing children's interests, improving their behavior and increasing their personal expectations and goals.
"I had the pleasure of visiting the school," said Conigliaro. "From the very moment I walked in, I could feel the positive energy in the air and that something great was happening there. To see the look of success, and confidence on the faces of the boys and girls of all ages is such a great feeling – words can't describe it. I am honored, and humbled."
Conigliaro was honored for his "Dedication and Commitment" to the children of the community, alongside the "Youth of the Year" winner Maria Cruz.
"I was fortunate," continued Conigliaro. "I grew up with a stay at home mom, and a family of nine children. Unlike now where both parents have to work in most households, guidance in making the right choices was always available. Today, kids are faced with so many distractions, social media for one, to peer pressure and being bullied that can often result in these kids making bad choices and going to the wrong places."
The post GVP Conigliaro Honored for Dedication and Commitment appeared first on IAMAW.
Source:: iMail