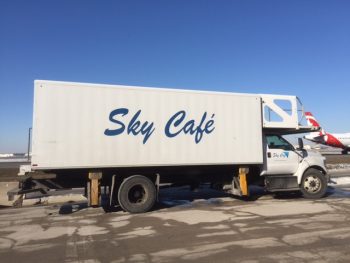 Thirty-five drivers at Toronto's Pearson International Airport voted overwhelmingly to join the IAM recently. The campaign relied mainly on social media – texting and Facebook – to get information to Sky Café employees due to limited job site access for the organizers.
"We couldn't access these workers on the job site to conduct a traditional campaign so we opted for social media, which has the added bonus that the company couldn't interfere on private communication," explained IAM Transportation District 140 Organizer Sam Jabbar. "We communicated with these individuals about all aspects of the organizing process and answered all of their questions. This method was well received. At the end of the day, these new members made an informed choice and we very pleased to welcome them into the IAM family."
In typical union avoidance fashion, Sky Café ran an aggressive anti-union campaign.
"They called in workers and part time staff on their day off, offering three hours of overtime if they would come in to vote no," said Jabbar.
The drivers deliver prepared meals from the Sky Café warehouse and kitchen to a variety of airlines at Pearson.
The IAM is the largest union at Pearson and the largest in the Canadian air transport sector.
The post Social Media Leads to Organizing Victory at Toronto Airport appeared first on IAMAW.
Source:: iMail