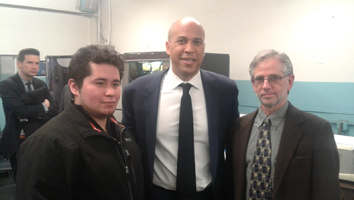 Sen. Cory Booker (D-NJ) visited apprentices in Passaic, NJ to discuss expanding apprenticeship programs through the LEAP Act, which he co-sponsored. Pictured from left are IAM diesel apprentice Byron Rivera, Booker and District 15 IAM CREST Project Coordinator Ira Stern.
American workers need more job training opportunities like IAM District 15's Youth Transition to Work program, U.S. Sen. Cory Booker said at a recent meeting with labor and business leaders.
A roundtable discussion hosted by Booker included District 15 CREST Project Coordinator Ira Stern and IAM diesel apprentice Byron Rivera, who now earns $28 per hour after entering the program straight out of high school.
"We have millions of jobs in this country that are going unfilled because we are not training our workforce for the 21st century," said Booker. "While other nations around the globe are rushing to change their workforce training policies, America is lagging behind."
District 15 IAM CREST apprenticeships help young people transition from high school to good jobs in the automotive and diesel technology fields. The four-year program turns out union technicians who go from approximately $10 per hour to earning $25 per hour or more after completion. The program partners with local trucking companies, automotive dealerships, the U.S. Department of Labor and the New Jersey Department of Labor and Workforce Development.
"The Youth Transition to Work (YTTW) program is not only our most popular, it has become one of the most successful," said District 15 Directing Business Representative and Program Director Juan Negron. "Sen. Booker understands the need for apprenticeships to prepare students in bridging the huge skills gap necessary to fill good paying jobs that require advanced technical abilities. The YTTW does just that, and the students can earn while they learn."
"Sen. Booker is a strong supporter of jobs – good jobs, and apprenticeships that prepare workers for those jobs, especially our youth," said Eastern Territory General Vice President Jimmy Conigliaro, Sr. "Under the direction of Juan Negron and Coordinator Ira Stern, the program continually produces successful results. Which in the end means a young student is entering the workforce with the skill sets to obtain a good paying job after completing the four year program."
Booker co-sponsored the Leveraging and Energizing America's Apprenticeship Programs Act (LEAP) to expand and enhance employment opportunities, through apprenticeships, in a number of industries.
According to the Brookings Institution, strengthening the apprenticeship model will help improve economic opportunities and meet the demand for a skilled workforce. Unlike normal part-time jobs held by high school and college students, apprenticeships integrate what young people learn on the job and in the classroom.
Click here for more information on the District 15 Youth Transition to Work Program apprenticeship program.
The post New Jersey Sen. Cory Booker Meets with IAM CREST on Future of Apprenticeships appeared first on IAMAW.
Source:: iMail