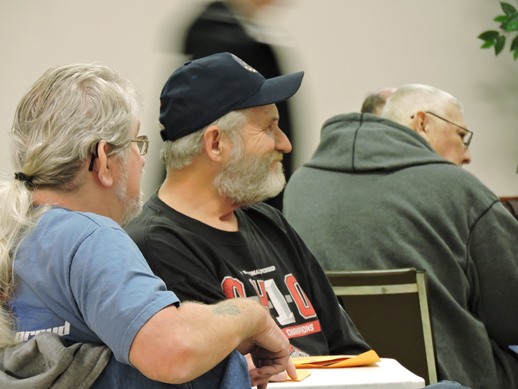 Evandale, Ohio IAM Local 912 Retirees John Hill and Gary Chase attend a meeting to get informed on the starting of a new Retirees Committee.
Nearly 50 retirees of Local 912 met at a luncheon last week in Evandale, OH to explore the formation of a new Retirees Committee. Local 912 president Eric Kratzer kicked off the meeting by thanking the group for attending, and for their overwhelming support the previous night to rally against a so-called "right-to-work" (for less) proposal in nearby West Chester Township.
"Our retirees are not only one of our most valuable assets, they are our most dependable too, literally just a phone call away," said Kratzer. "I'm very proud of the turnout for the meeting today and last night in the fight for working families."
IAM Retirees and Employee Assistance Program Director Ed Manhart addressed the group with an introduction to the services provided by the department.
"I am proud to see so many of you in attendance for this new endeavor," said Manhart. "Your attendance at the rally last night and here today shows that you are going to be a very active group. We are thankful for your service to your union. I look forward to working with you all in the future."
"Our retirees are leading the fight for retirement security for current and future retirees," said IAM Eastern Territory General Vice President Jimmy Conigliaro, Sr. "Union retirees and seniors understand that the fight for social and economic justice depends on their involvement, and their commitment to improve and preserve these protections."
The post Ohio Retirees Rally Up, Get Involved appeared first on IAMAW.
Source:: iMail