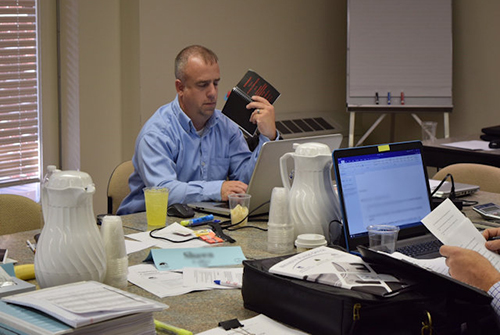 The negotiating committee for IAM Local 1943 recently completed the Negotiations Preparation for Bargaining Committees at the William W. Winpisinger Education and Technology Center in Hollywood, MD. The local represents nearly 1,800 members at a Middletown, Ohio steelmaking facility.
The bargaining committee spent the week working on bargaining strategy, building in-plant solidarity and strengthening current contract language.
"I'm thankful for the training we were able to receive here at the Winpisinger Center," said Local 1943 Directing Business Representative Neil Douglas. "Our bargaining committee is prepared to sit across the table from the company as equals, and bring back a contract our members can be proud of."
"The Local 1943 Negotiating Committee has the tools and skills to bargain for the contract our members there deserve," said Eastern Territory General Vice President Jimmy Conigliaro Sr. "They have the full support of the Eastern Territory, and the IAM behind them as they enter the final stretch of these talks."
IAM Members working at the Middletown Works plant have made the facility the nation's most productive integrated steel operation. They manufacture steel products by the way of carbon steel melting, casting, hot and cold rolling, and finishing operations. The current contract with AK Steel expires March 15, 2018.
The post Ohio Local Prepares for Upcoming Contract Negotiations appeared first on IAMAW.
Source:: iMail