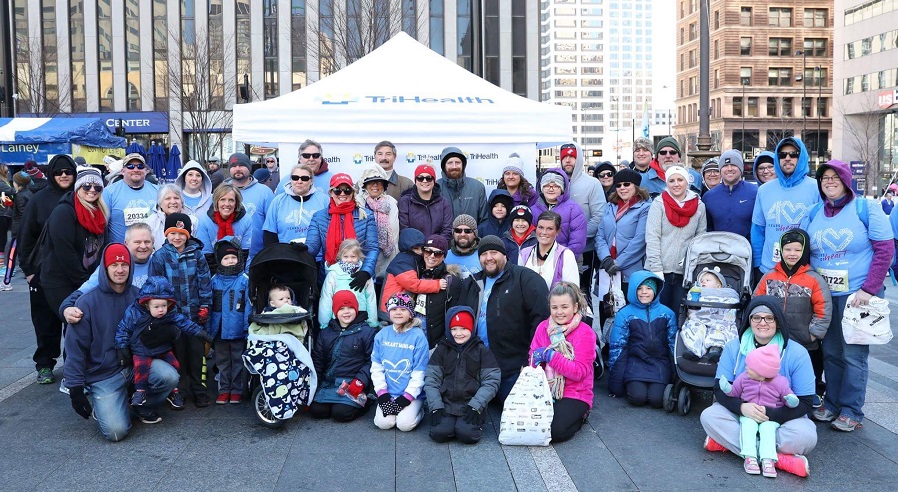 IAM member Josh Gilkison and his wife, Golda, were joined by over 50 friends and family who braved frigid Ohio temperatures to participate in the Cincinnati Heart Mini Marathon and Walk recently as Team Heart Healthy Famous. The Gilkison's team raised nearly $7,500, putting them in the top 5 fundraisers for non-company sponsored community teams and 25th overall for the event.
The Gilkison's are very passionate about heart disease. Shortly after giving birth to their third child, Golda was diagnosed with peripartum cardiomyopathy, a rare condition that prevents the heart from pumping blood to the rest of the body properly.
Golda received a defibrillator in 2015 and her condition is being treated with medication. Since then, the Gilkisons have made it their mission to bring awareness to the heart condition and raise money to help find a cure.
"Everyone has been more than generous with the fundraising," said Gilkison. "It's great to be a part of this union family."
IAM Local 912 President Eric Kratzer was one of Gilkison's union brothers who made it out to support their team.
"It was great to come out and take part in the Heart Mini and raise money on behalf of Josh and Golda," said Kratzer. "They're a great family whose strength and determination inspires everyone who meets them."
The fundraising event benefited local chapters of the American Heart Association and the American Stroke Association. It includes running and walking events of different distances, so people of all skill levels and ages could participate.
You can follow the Gilkison's journey to raise awareness on the Heart Failure Famous Facebook page.
The post Ohio IAM Family Braves Cold, Raises Money to Combat Heart Disease appeared first on IAMAW.
Source:: iMail