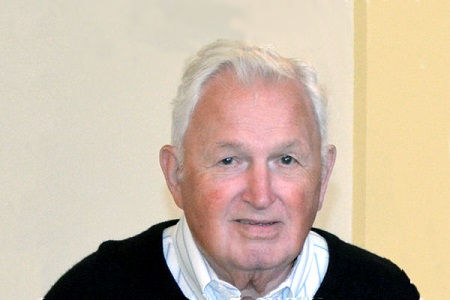 The IAM Midwest Territory announces the passing of retired Grand Lodge Representative Donald "Don" Stella. Don, a 51-year Machinist, passed away Sunday, March 26, 2017 at his home in Pleasant Hill, MO. He was 77 years old.
"The IAM has lost a devoted and true trade unionist," said IAM Midwest Territory General Vice President Philip J. Gruber. "Don will not only be missed and remembered for his devotion to the labor movement, but also as a respected journeyman. On behalf of the members he served and the entire Midwest Territory, I want to extend my sincere condolences to the Stella family and friends."
Don initiated into former IAM Local 314 in December 1963 in Kansas City, MO. He worked as a machinist for Bendix Corporation, a non-nuclear plant now operated by Honeywell. In January 1982, Don became a Business Representative for former IAM District 71, Kansas City. In 1986, he was appointed to the position of Special Representative for the IAM Midwest Territory. He then became a Grand Lodge Representative in 1988. Don served under four General Vice Presidents during his time working for the IAM Midwest Territory. He retired as an IAM Grand Lodge Representative in 2001.
Don is survived by his wife Sharon; two daughters, Michelle and Jennifer (Jeff); three grandchildren and one great-grandchild.
Funeral services will be held Wednesday, March 29, 2017, beginning at 1:00 p.m. with visitation at 12:00 p.m. at Cullen Funeral Home, located at 612 West Foxwood Drive, in Raymore, MO. He will be laid to rest at the Mount Moriah Cemetery, located at 10507 Holmes Rd, Kansas City, MO.
The post IAM Midwest Territory Mourns Passing of Retired GLR Don Stella appeared first on IAMAW.
Source:: iMail