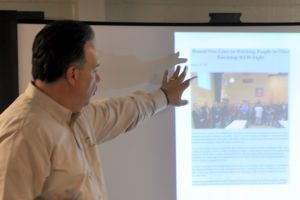 Four months, three states, 19 cities and more than 14,000 IAM members – that was the road map District 54 President/Directing Business Representative T. Dean Wright, Jr., set out to travel. Wright felt it was his obligation to IAM members to sound the alarm on the dangers of "right-to-work" legislation.
Back in February, when winter still had it's grip across Ohio, some lawmakers were attempting to wrap the wretched fingers of "right-to-work" legislation around the throats of working men and women of the Buckeye State. Elected officials were introducing the anti-union law at the state and community levels.
"When the full-on attack began, I knew we had to do everything possible to fight back," said Wright. "I met with district staff, and decided that I would personally travel to each local lodge and conduct Shop Steward training, including 'right-to-work' discussions."
IAM District 54 President/Directing Business Representative T. Dean Wright gives a presentation on the negative effects of "right-to-work" laws.
Training sessions were scheduled to coincide with monthly local membership meetings, so that the "right-to-work" discussions could include interested members, retirees and the executive board of each local.
"The meetings were productive," continued Wright. "The local officers, shop committees and members that attended gained information on the effects of 'right-to-work' in their states and can educate the rest of our members on how this law is an attack on our families and our way of life."
"Working families are under attack on all fronts, and our members are leading the way in the stand to protect their rights," said Eastern Territory General Vice President Jimmy Conigliaro, Sr. "IAM members aren't fooled by the thinly veiled guise from big corporate special interests to cut wages, weaken the middle class and take away their ability to defend their rights and safety in the workplace."
"This wouldn't have been possible without all of the resources of the IAM," said Wright. "My thanks to GVP Conigliaro, and the staff of the Eastern Territory. With the assistance of the Winpisinger Center, especially the Media Annex, over 14,000 pieces of information, letters and flyers were produced, shipped and then passed out to every member, all at a great cost savings to District 54."
"This was a tremendous undertaking by District 54, my thanks go out to PDBR Wright, his staff and and all involved to make it possible," said Conigliaro,Sr. "Educating our members, arming them with the information needed to combat the continuous onslaught is exactly what it takes to beat back the attack, and the IAM, our members, and working families across the U.S.A. will continue to push back against anti-worker legislation, anyplace, anytime."
The post Ohio District Taking the Fight to 'Right-to-Work' appeared first on IAMAW.
Source:: iMail