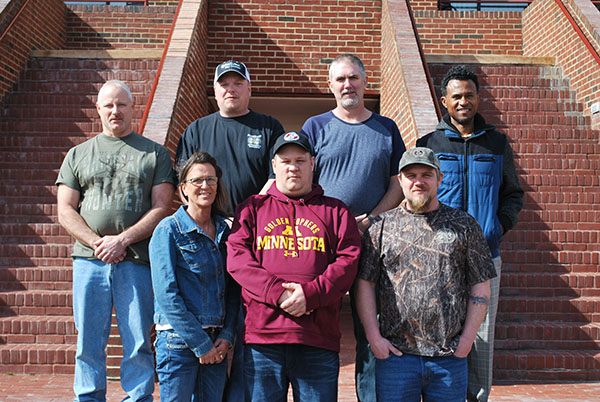 IAM Local 623 Negotiating Committee and staff attend Negotiation Preparation for Bargaining Committees program at the William W. Winpisinger Education and Technology Center in Hollywood, MD. Front row from left: Colleen Murphy-Cooney, Directing Buisness Representative; Terry Bachman, Steward; Nathan Luberts, Steward. Back row from left: Timothy Heisick, Committee Member; Todd Grundhoefer, Committee Member; Scott Burger, Steward; Geny Ulloa, Grand Lodge Special Representative.
The Local 623 Negotiating Committee, along with staff members from Local 623, Directing Business Representative Colleen Murphy-Cooney and Midwest Territory Special Representative Geny Ulloa, participated in the Negotiation Preparation for Bargaining Committees program at the William W. Winpisinger Center in Hollywood, MD.
Local 623 represents employees at DeZurik in Sartell, MN, which produce a variety of process industry valves, including water treatment, sewage treatment and water distribution valves.
Recognizing that this promises to be a difficult round of negotiations, the Committee strategized to change bargaining history, map a new direction for relations with the company, put better language in the contract and build solidarity in the bargaining unit. The current contract with DeZurik expires June 3, 2017.
"The long hours that the committee put into their plan to achieve successful negotiations was well received by each and every member of the committee," said District Representative Colleen Murphy-Cooney. "The committee was grateful for the opportunity to attend the Negotiation Prep class at William W. Winpisinger. This class has prepared the committee to unite themselves their co-workers to rally together to negotiate a fair and equitable contract."
The post Minnesota Members Get Ready for Contract Talks appeared first on IAMAW.
Source:: iMail