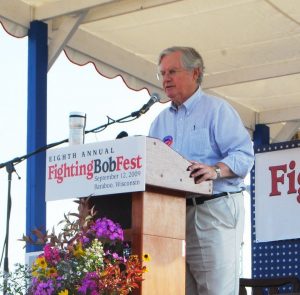 Ed Garvey – longtime Machinists friend and icon among Wisconsin progressives – died Wednesday morning. He was 76.
Garvey, a nationally-known labor attorney, was a personal friend to former IAM International President William W. Winpisinger.
"He played an instrumental role in Winpisinger buying the land for Placid Harbor," says former Wisconsin IAM District 121 and retired Grand Lodge Representative Daniel L. Vande Kolk. "He also counseled District 121 during the 80s and early 90s… When members working at Mayville Die and Tool were faced with a possible unfavorable selling-off of the company, it was Garvey who helped our members gain employee ownership."
Garvey is most noted for his service as Executive Director and Counsel to the National Football League Players Association (NFLPA) from 1970 to 1983. He led the players' union through two strikes.
In 1983, Garvey served as assistant to the Wisconsin Attorney General. He left for private practice as a labor attorney – often representing cases pro bono because of his steadfast belief in helping the "little guy," writes Madison, Wisconsin newspaper The Capital Times.
Garvey – a devout Democrat – ran for the U.S. Senate in 1986 and for Wisconsin governor in 1998. He also founded Wisconsin's annual progressive political event known as Fighting Bob Fest.
The New York Times writes that he once had some choice words for Wisconsin Governor Scott Walker when asked to say "something nice" during a 2011 speech in Madison. "It's not that [Walker] lies," said Garvey, "But that he has such a higher regard for the truth that he uses it sparingly."
"Ed Garvey epitomized economic justice and labor rights," said IAM Midwest Territory General Vice President Philip J. Gruber. "It was the bases of his career from start to finish. Labor lost a true son this week. Our thoughts and prayers are with his family during this difficult time. He will truly be missed."
Garvey is survived by his wife and three daughters.
Information regarding funeral arrangements are expected in the coming days.
The post IAM Midwest Territory Mourns Passing of Labor Leader Ed Garvey appeared first on IAMAW.
Source:: iMail