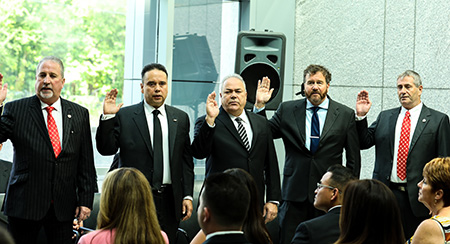 Democracy was on display Saturday, July 1, as the IAM Executive Council was sworn in, reciting the Oath of Office for their terms in which they were elected in a ceremony at IAM Headquarters in Upper Marlboro, MD.
"I commit to you this morning to give everything I have – every single day – to advance the interest of the IAM, to continue to fight for economic justice at the bargaining table, to continue to fight in the political and legislative arena, and to continue to fight to grow our great organization," said International President Bob Martinez. "And no matter what challenges lie ahead, together, as one union and with one voice, we will grow this union and continue to bring justice and dignity for all our members on the job."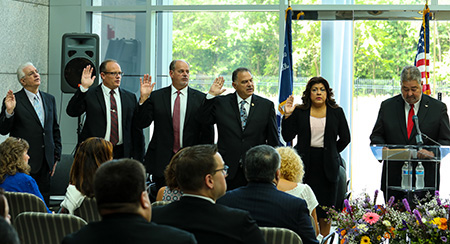 "I am so honored to serve as your General Secretary-Treasurer and particularly to serve as part of this amazing team that our members elected as their Executive Council," said General Secretary-Treasurer Dora Cervantes. "We are ready for the challenges of the future. This council – this team – has what it takes to make the right decisions that need to be made to ensure our great union continues to grow and I am so honored and privileged to be a part of it.
Along with the swearing in of the IAM Executive Council, members of the IAM Law Committee were sworn in along with the IAM Delegates to the AFL-CIO and the IAM Delegate to the Canadian Labour Congress.
International President – Robert Martinez, Jr.
General Secretary-Treasurer – Dora Cervantes
General Vice Presidents – Philip J. Gruber, Gary Allen, Sito Pantoja, Mark Blondin, James Conigliaro, Sr., Rickey Wallace, Stan Pickthall, Brian Bryant
TCU National President – Robert A. Scardelletti
IAM Law Committee – Ianthe Anderman, James Beno, Mark Conner, Walter Gerlach, Philip Zannella, Jr.
IAM Delegates to AFL-CIO – Juan Negron, Susan Palmer, Gilbert Simmons
IAM Delegate to Canadian Labour Congress – Tania Canniff
All were elected to serve a four-year term in accordance with Article III, Section 5 of the IAM Constitution.
The post IAM Executive Council Looks Toward Future appeared first on IAMAW.
Source:: iMail