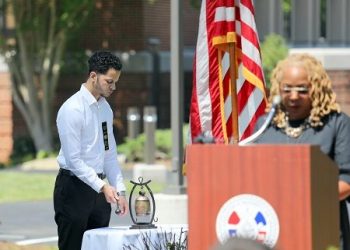 IAM Safety and Health Project Coordinator Teri McClendon reads the names while Outreach Coordinator Arnett Powell rings a bell honoring those being remembered at the IAM 2017 Workers' Memorial Program.
The IAM took pause last week to remember and honor the thousands of workers killed, injured or sickened on the job each year at a Workers' Memorial Program at the William W. Winpisinger Education and Technology Center.
The IAM Safety and Health Department hosted the ceremony with Director Jim Reid presiding.
Watch: Workers' Memorial Day Ceremony
Unions across the U.S. and Canada recognize April 28 as Workers' Memorial Day. It is a time to mourn the losses of our beloved coworkers, and recognize that there is much work to be done to ensure safe working conditions for all.
IAM General Secretary-Treasurer Dora Cervantes spoke about the importance of not only honoring the ones we have lost, but continuing to fight for safer work environments for all members.
"Each year we gather here to remember those who we have lost," said Cervantes. "But make no mistake, our efforts to honor these dedicated workers does not end when we lay a brick with their name on it. Every single day IAM representatives fight to be sure our workplaces are as safe as possible."
IAM General Vice President Rickey Wallace delivered the ceremony's closing comments.
"We have to protect our Brothers and Sisters who are on the frontline making some of the most dangerous products in the world," said Wallace. "So on this day, we will pledge to fight for safe jobs, economic security, opportunity and a better life for all."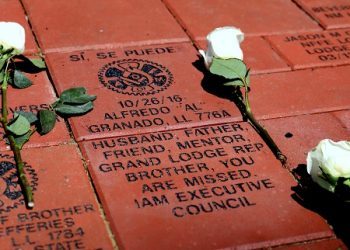 Friends, family and fellow IAM brothers and sisters gathered to honor the five men and women who lost their life on the job last year: Barbara Jean Blackburn, IAM Local 2766; Timothy Underwood, IAM Local 1471; John Douglas Snoddy, IAM Local 1486; Brian Cupp, IAM Local 162; and Donald L. Gray, Jr., TCU-IAM Local 6034.
Special remembrance was given to retired Business Representative Rene Dinneweth, IAM Local 1191; Directing Business Representative Michael H. Hornby, IAM District 10; retired Directing Business Representative Thomas Lesch, IAM District 10; retiree James J. Jones, IAM Local 778; retired Grand Lodge Representative Donald "Don" Stella, IAM Local 314; Grand Lodge Representative Alfredo "Al" Granado, IAM Local 776A; Mickey Marinko, IAM Local 2783; retiree Edward "Gene" Sykes, IAM Local 2783; IAM Local 1635 President Beverly McMullan; retiree Terry Haskins, IAM Local 639; and long-time labor leader and friend of the Machinists Labor Attorney Edward R. Garvey.
The Workers' Memorial Program was held at the IAM Worker's Memorial on the grounds of the Winpisinger Center, in Hollywood, MD which was dedicated in 2001 to recognize and remember the union members who are no longer with us.
The post Honor and Resolve on Workers' Memorial Day appeared first on IAMAW.
Source:: iMail