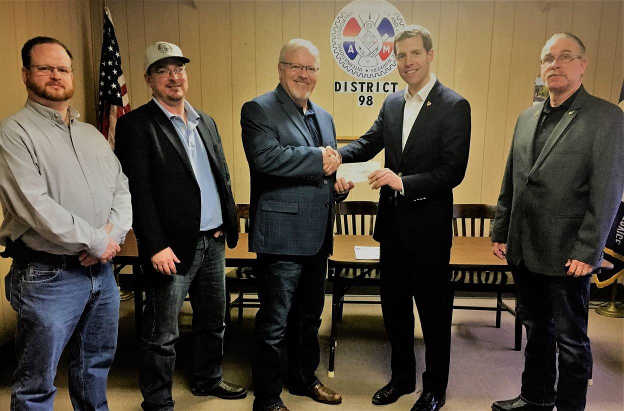 Conor Lamb, the candidate for the March 13 special election in southwestern Pennsylvania's 18th congressional district, took time off the campaign trail to meet with IAM District 98.
In January, delegates to District 98 voted to endorse Lamb in the special election for the vacancy created after the resignation of Rep. Tim Murphy. Lamb has also been endorsed by Vote Vets and the AFL-CIO.
"Conor Lamb supports the issues important to us," said District 98 Directing Business Representative Bob Miller. "Most importantly, he openly supports labor unions, the right to organize and bargain collectively for better wages, benefits and working conditions, and defeat the ideological extremists who want to put unions out of existence."
Lamb was a captain in the U.S. Marine Corps and continues to serve in the Marine Corps Reserve. He was also an assistant U.S. attorney for the Justice Department in Pittsburgh.
"Conor is the real deal," said Miller. "This man took his law degree and signed up to serve our country as a U.S. Marine, continues to serve in the reserves, all while he was a federal prosecutor serving the state of Pennsylvania, and has now signed up to serve his country as a United States Congressman."
While in the Marines, Lamb was awarded the Navy and Marine Corps Commendation Medal with two Gold Stars, the National Defense Medal, and the Global War on Terrorism Service Medal. As a federal prosecutor, he was heavily involved in efforts to combat the opioid epidemic in western Pennsylvania and has led aggressive prosecutions involving opioid-related deaths and violent criminals.
"Conor Lamb is a true champion for working families," said Eastern Territory General Vice President Jimmy Conigliaro, Sr. "His priorities are our member's issues. He supports good union jobs with fair wages and good benefits; affordable, quality healthcare; protecting unions that fight for those benefits; and the rights of the workers who choose to join the union of their choice."
The post Congressional Hopeful Conor Lamb Meets with Pennsylvania District 98 appeared first on IAMAW.
Source:: iMail