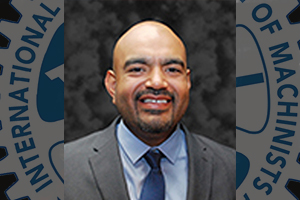 IAM International President Robert Martinez, Jr. has appointed Jorge Bonilla from Houston Local 811 as an Education Representative at the William W. Winpisinger Education and Technology Center in Hollywood, MD, effective August 20, 2017.
"I am proud to be able to fill the vacancy at the Winpisinger Center created by Rhonda Rogers' appointment as the director of the Women's, Human Rights, and Young Workers Department," said Martinez. "Jorge brings a wealth of relevant and practical knowledge to the center and has been involved from the ground up in organizing and servicing. I know his knowledge and experience will be put to immediate use to the benefit of our membership."
Bonilla, a union activist for nearly 20 years, comes to the Winpisinger Center with great experience as an activist, organizer and servicing representative in the air transport sector.
"Organizing and growth are critical to our future," said Winpisinger Center Director Chris Wagoner. "Jorge has been involved in multiple organizing efforts. That skill set and those experiences will be great additions to our capability at the Winpisinger Center. He also possesses a strong servicing background. Coupled with his strong organizing and facilitation skills, developed as a member of the Spanish Leadership Working Group, we are confident that Jorge will make an immediate contribution to the work we do at the Harbor."
Bonilla has been a member of the Spanish Leadership Working Group at the Winpisinger Center, and has been involved in reviewing, translating, developing and delivering the leadership programs in Spanish.
Before be elected Assistant General Chairperson at District 141 in 2014, Bonilla was elected as Grievance Committee Chairperson of the newly formed Local 811. He also served on the negotiating team that negotiated the amalgamated agreement at the new United Airlines. As an Assistant General Chairperson, Bonilla was responsible for handling grievance reviews and arbitrations for Ramp Service and Customer Service employees at several different United Airline negotiations. Bonilla's union activism began at Continental Airlines in 1998 where he joined the IAM in-house team working to organize the carrier.
The post Bonilla Appointed Education Representative at Winpisinger Center appeared first on IAMAW.
Source:: iMail