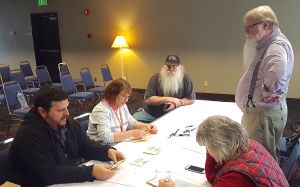 IAM District 751 members at Hytek Finishes in Kent, WA voted 95-percent "yes" last week on a new three-year collective bargaining agreement, which includes across-the-board benefits.
"This is a good contract that makes improvements in wages and other areas," said District 751 Business Representative Joe Crockett, who led negotiations. "Our members at Hytek work hard, and this contract rewards them for their skills and dedication."
Among the negotiated increases are immediate raises in the minimum wage for workers in each of four job categories and the removal of caps on maximum pay. The contract includes additional annual raises of 2.25 percent or higher based upon the accumulation of "skill points." The agreement also improves language regarding sick leave, holiday pay, probationary periods for new employees, and sets new requirements for the company to give advance notice before requiring overtime work on holidays and when making changes to work schedules.
"These members can take pride in what they have earned with this new contract," said IAM Western Territory General Vice President Gary Allen. "They deserve the respect and recognition this agreement includes and I commend them and their negotiating committee."
This is the second contract for members at Hytek since joining District 751 in 2011. The contract covers about 180 hourly workers who do metal coating and finishing on aircraft parts for Boeing, BAE Systems, Lockheed Martin, Bell Helicopters, Goodrich Corp., and Gulfstream.
Hytek is a subsidiary of Bellevue-based Esterline Technologies Corp., the largest aerospace company with a Washington State headquarters.
The post Big Gains in New Contract for District 751 Hytek Members appeared first on IAMAW.
Source:: iMail