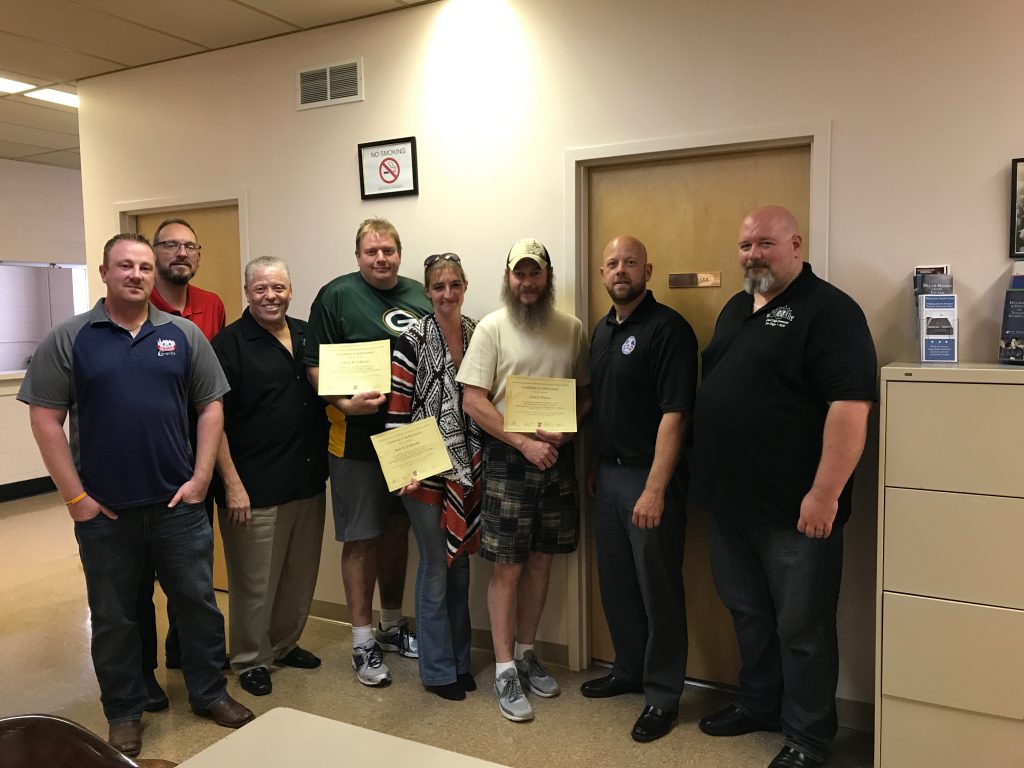 Members of the IAM Local 1564 Bargaining Committee complete the IAM Negotiation Preparation Field Program in preparation for upcoming negotiations with food and beverage container-maker Silgan in Oconomowoc, WI. Committee members, starting fourth from right, Dan Schlender, Chairman; Katie Ziolkowski; Todd Rhyner; and Jeremy Terlisner, IAM District 10 Business Rep. Also pictured, left to right, IAM Midwest Territory staff members Education Rep. Joe Gruber, Grand Lodge Reps. Marty St. Peters and Luther William, and, far right, Special Rep. Kevin Murch.
Members of the IAM Local 1564 Bargaining Committee for upcoming negotiations with food and beverage container-maker Silgan Containers in Oconomowoc, WI didn't have to go far in order to take part in their union's specialized training program for contract negotiations. Instead of traveling from Oconomowoc, WI to the IAM's William W. Winpisinger (WWW) Education and Technology Center in Hollywood, MD, the program came to them.
The one-week training is a part of the IAM's Negotiation Preparation Field Program.
In an effort to support and augment its highly-successful Negotiation Preparation for Bargaining Committees Program, currently held at the center, WWW rolled out the field training program as a more flexible format for negotiating committees, stewards and members. It is not designed to replace the Winpisinger-based Negotiation Prep program, but can accommodate for situations where in the field negotiations preparation is the better option.
"The Field Negotiations Prep class was a great cost effective tool for the committee at Silgan Containers who, before their week of training, had little to no experience in negotiations," said IAM District 10 Business Representative Jeremy Terlisner. "We feel better prepared for the road ahead and look forward to representing the members in our contract negotiations."
The Local 1564 Bargaining Committee spent a week learning, planning and developing a constructive and unified approach to their upcoming negotiations. Training topics included how to draft contract language, present proposals, analyze the company's strengths and weaknesses, mobilize and communicate with members – and more.
The week culminated in a bargaining simulation – the highlight of the program – designed to give the bargaining committee a realistic taste of the frequently-intense atmosphere at the bargaining table.
The post Wisconsin IAM Local 1564 Completes IAM Field Negotiation Prep Class appeared first on IAMAW.
Source:: iMail