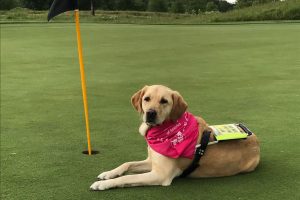 IAMAW Local Lodge 774 in Wichita, KS raised nearly $19,000 for Guide Dogs America during this year's annual golf fundraiser.
Close to 80 golfers, from IAM members around District 70 to supporting companies, arrived ready to play. Although rain was forecasted, that didn't keep the Machinists and the community away from a charity they are devoted to helping.
Throughout the day, golfers were able to see and meet Teresa Blevins and her guide Asia and even give the 'pup a little pet' when she wasn't on the job. After an amazing rendition of the national anthem by Blevins, the golfers set off to play. Even when the skies did actually part and the storms rolled in, the golfers took it in stride. Many sat the rain out in the clubhouse, enjoying a catered dinner and an afternoon of prize giveaways before, of course, heading back out to the greens.
Guide Dogs of America is dedicated to its mission to provide guide dogs and instruction in their use, free of charge, to blind and visually impaired men and women from the United States and Canada, offering them the ability to pursue increased mobility and independence in their everyday lives. Receiving no government funding, the school relies solely on donations and fundraising.
GDA is grateful for the support of donors and volunteers that literally change the lives of so many visually impaired men and women.
"This was a banner year for IAM Local 774 and we look forward to next year," said IAM Local 774 President Brian Alexander. "Thank you to all the volunteers for their time and hard work, and especially the golfers for their support and Teresa and Asia for their participation."
The post Wichita Local 774 Hits the Links for Guide Dogs appeared first on IAMAW.
Source:: iMail