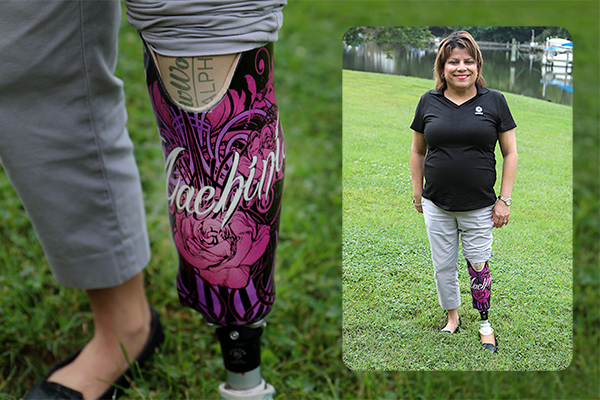 Houston IAM Local 2198 trustee and senior shop steward Maria Caban credits the generosity of her union brothers and sisters with helping get her through the past year's challenges.
Last summer faced a challenge that would have stopped most people in their tracks. Thanks to her husband, her determination and her union family, she was able to get back on her feet, one being prosthetic.
Caban has worked for Continental Airlines, now United, for more than 27 years in the customer service department. When the two airlines merged and she became an IAM member, Caban immediately embraced her union and the opportunity to speak for workers who needed a voice.
As a child, she would act as an interpreter for her mother and other Spanish-speaking workers who were being taken advantage of.
"I would go translate for her and say 'look, you didn't give her overtime, she has seniority, she's missing this," said Caban. "I was her voice and then I just grew up with that fight in me and trying to help people when they couldn't defend themselves or speak up."
Joining the IAM gave her a new opportunity and a new family. She became active and has been ever since. Caban shares her passion for working people with her husband Ivan, a shop steward and trustee of Houston IAM Local 811. Their union membership, and the medical benefits of her negotiated contract, would prove vital several years later while on vacation in Puerto Rico in July 2016.
Early on the last morning of their stay, Caban became seriously ill with headaches, vomiting and she lost feeling on the left side of her body from the waist down. Her leg had inexplicably lost oxygen and developed dangerous blood clots. The doctors in Puerto Rico did all they could, but told her she needed to have her left leg amputated just below the knee.
"I was in the hospital for five weeks there," said Caban. "I came back home and my doctors did tests here and they could not determine what caused it. As a result of that, I have to take blood thinners for the rest of my life. But it's okay because I'm still here today and I'm excited."
While still in the hospital, Caban's will to walk again got her out of bed and into physical therapy almost immediately. She credits the medical insurance her contract guaranteed for giving her access to the necessary treatment in Puerto Rico and back home in Houston. Her IAM family then gave her something she could never have expected.
"The IAM was wonderful to me. They were so supportive and always checking on me," said Caban. "All the employees and friends did fundraisers for me. At the Grand Lodge Convention in Chicago they got up and spoke about my situation."
On the convention floor, the IAM Executive Council contributed to the fundraising efforts of her local and district, to achieve an amount that allowed the Cabans to make their bathroom handicap accessible.
"I was so blessed and touched by that," said Caban. "It's beyond words."
When her prosthetic leg was being fabricated, Caban was told she could customize the look of it. It took no time for her to decide. She used the design of her Machinists Women's t-shirt, and now she walking strong and shows her IAM pride with each step she takes.
The post Walking Strong appeared first on IAMAW.
Source:: iMail