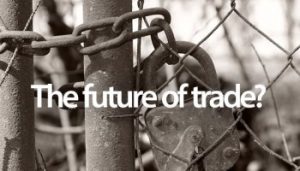 With President-Elect Trump vowing to renegotiate our country's trade deals, working families still have many questions about if the results will truly benefit them.
The Citizens Trade Campaign (CTC), a coalition that helped stop the Trans-Pacific Partnership, delivered Trump a letter challenging him to commit to replacing the North American Free Trade Agreement (NAFTA) and other existing agreements with trade policies that put working people and healthy communities first.
"The more than 12 million Americans represented by the diverse member groups of the Citizens Trade Campaign represent a broad demand in this country for policies that create good jobs, raise wages, reduce inequality, protect the environment and ensure healthy communities," says the letter. "If your administration fails to achieve these fundamental goals, or delivers yet another corporate-favoring deal that threatens such priorities, we will oppose it at every step."
The letter lays out a number of elements required for a successful renegotiation of NAFTA and implementation of new trade agreements. Among the changes are binding and enforceable labor standards, increased safety and environmental rules and strengthening "rules of origin" language.
Click here to read the letter.
The post Trump on Trade: How Workers Can Benefit appeared first on IAMAW.
Source:: iMail