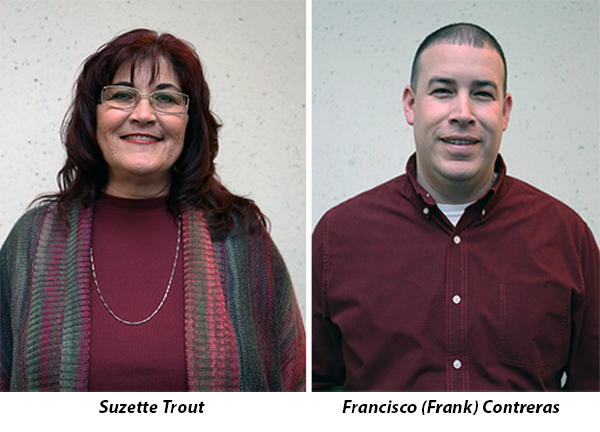 IAM General Secretary-Treasurer Dora Cervantes has appointed Suzette Trout and Francisco "Frank" Contreras as Grand Lodge Auditors, effective January 1, 2018.
"These two individuals exemplify our union and what we stand for," said Cervantes. "Their knowledge and work ethics add to an already strong auditing team. The GST department is proud to have them and I look forward to a long working relationship in their new capacity."
Trout initiated into Alamogordo, NM IAM Local 2515 in 1996 as an employee at White Sands Missile Range. She has worked in the optics department as an Electronics Technician, Photo-Optical Technician and most recently as a Controller-Scheduler. She has served as a shop steward, contract negotiator and health care committee member. Trout served as the local's Secretary Treasurer for 13 years, and also as Secretary Treasurer for the New Mexico State Council.
Contreras became an IAM Local 737 member in January 2000, when he started as an Automotive Technician at Inver Grove Ford in Inver Grove Heights, MN. In February 2007, he was elected shop steward, a position he held until 2014. In 2009 he was appointed the local's Conductor Sentinel, and was elected Secretary-Treasurer in 2011.
In January 2015, Contreras was elected District 77 Secretary-Treasurer and then served as Business Representative and Assistant Directing Business Representative before his appointment as a Grand Lodge Auditor.
The post Trout and Contreras Join GST Auditing Team appeared first on IAMAW.
Source:: iMail