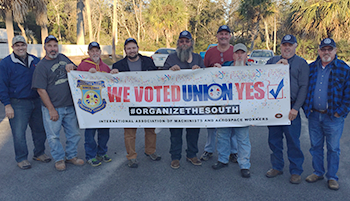 Nearly 300 Aircraft and Base Maintenance workers at Eglin Air Force Base in Florida have voted to join the IAM. From left: Grand Lodge Representative Tony Wirth, Robbie Davis, Mark Reeves, Jesse Barefield, Randy Jones, Jim Haas, Wade Hutto, Mac Brown and District 75 Organizer Mike Cooke. Not pictured: Scott Missildine, Billy Given and District 75 Business Representative Brad Smith.
In an 18-hour stretch between December 8 and 9, the IAM won three separate organizing drives to represent nearly 300 working people in Florida and Kentucky.
First, IAM District 711 won elections for two units of 13 Simulator Technicians at Kentucky's Fort Campbell. The groups work for NOVA Technologies and Pinnacle Solutions, respectively, and support the U.S. Army's 160th Special Operations Aviation Regiment.
"These workers wanted the IAM and a contract that will bring justice and security to the workplace," said District 711 Assistant Directing Business Representative Tim Wright. "We welcome these members at Fort Campbell and look forward to negotiating an agreement that reflects the value of the critical work they perform to support our nation's warfighters."
The Simulator Technicians work under the Service Contract Act, where the IAM has extensive negotiating and representation experience.
"We look forward to representing and improving the working conditions for these and many more workers at Fort Campbell and all over Kentucky, Tennessee and the entire Southern Territory," said District 711 Directing Business Representative Jerry Benson.
On December 9, IAM District 75 notched yet another organizing victory as 279 workers at Reliance Test and Technology at two Florida locations voted overwhelmingly to join the IAM.
"These workers have wanted to be represented by the IAM for some time, and they overcame the vicious anti-union rhetoric put out by the company," said Organizer Mike Cooke, who led the campaign "This was a team effort, with Business Representatives Brad Smith, Steve Jordan, Randy Garrett, Tony Bishop; Grand Lodge Representative Tony Wirth; and District 75 Directing Business Representative Steve Pridgen. The Shop Committee never gave up and reached out to every member in the unit to give them truthful information."
The new members perform a large and diverse mission of aircraft and base maintenance work at Eglin Air Force Base in Niceville and Port St. Joe, FL.
"Congratulations to our Organizer, Mike Cooke, and all on the team who helped District Lodge 75 help these workers," said District 75 Directing Business Representative Steve Pridgen. "We will continue to grow in Florida and Alabama and continue to assist other Southern Territory Districts with their campaigns. I am proud of all of our Representatives who worked so hard to get the job done."
The IAM's organizing success in the South, where it's won 29 campaigns this year, was recently highlighted by Forbes.
"I couldn't be prouder and happier for our staff, districts, locals and our rank and file members in every southern state who have worked so very hard and made it our collective mission to improve the quality of life for working families," said IAM Southern Territory General Vice President Mark Blondin. "The word is spreading that the IAM is the union of choice not only for workers in the Service Contract arena and aerospace, but for all workers in many diverse occupations who desire a better and more secure future for them and their families. The facts are what they are. No matter what the work, or what state it's performed in, the worker with a union contract has better health care, better pay and superior workplace advantages all around as compared to the lack of benefits offered to workers in non-union jobs."
The post The South Wants Unions. The IAM Just Proved It—Again. appeared first on IAMAW.
Source:: iMail