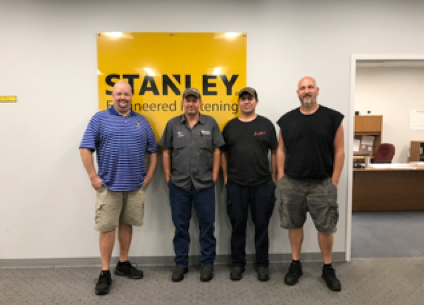 Local 2396 Negotiating Committee (left to right) Dale Knight, Jeff Nichols, Lynn Yonts and Kevin Bruce
You can't build a car, most kitchen appliances or even a computer without a fastener. So here's to the 120 workers of IAM Local Lodge 2396 at Stanley Engineered Fasteners in Hopkinsville, KY who just ratified an agreement that will keep these workers living the American Dream for another three years.
"I am very proud of how this committee conducted itself during Negotiations. They came in prepared with very distinct proposals as to what the membership wanted, in a very professional manner," said District 154 Directing Business Representative of Howard "Bubba" Dawes.
IAM Southern Territory General Vice President Mark Blondin, who started his career on the shop floor, knows how important these rivets can be.
"Bottom line, you can't build a lot of products without the work of Union Members like the ones in Hopkinsville, KY. That's what many in this country don't understand. It literally takes thousands of workers, in communities across the U.S.A., to fill the part orders needed to complete something like a car or a washing machine…the items that Americans use each and every day. Multi-million dollar companies couldn't function without the work of places like Stanley Engineered Fasteners," explains Blondin. "That's why it's great to see these men and women negotiate a contract that puts health and welfare issues, like pensions, at top of the priority list."
For at least two decades, this group has been privy to an IAM contract, and pension usually makes the top three of the priority list. And according to Dawes, that was still the case this time around. He considers what they negotiated to be one of the best items in this contract.
"We were able to get yearly pension increases for the life of the contract. And that translates into significant money for the retirees in this group. Beginning the third year of this contract, the IAM pension will be worth $85.46 for future years of service, with an additional $30.00 for the defined pension, for a total of $115.46 for future years," said Dawes. "That's the difference between working until you are 70 or actually retiring."
But it wasn't just pensions that saw increases. Over the three-year contract, wages will rise, on average, about 2.75% yearly. And they were able to keep health care costs stable, which is something the Machinist Union knows will come up the next time around because it's happening at bargaining tables around the country.
"That's our biggest hurdle for the future, health care. And we are not blind to what the companies are up against," said Blondin. "But at the end of the day, the companies, and their profits, would not exist without the workers. That's why we are taking on this massive issue of health care by partnering with companies to come up with solutions that work for everyone. I believe that's the only way it will be a 'win' for all at the bargaining table. And the best way to take care of the IAM Members who work tirelessly to make American products desired by people around the globe."
#iamsouthernvoice, #ThisIsWhyIAMUnion
The post The Small Parts appeared first on IAMAW.
Source:: iMail