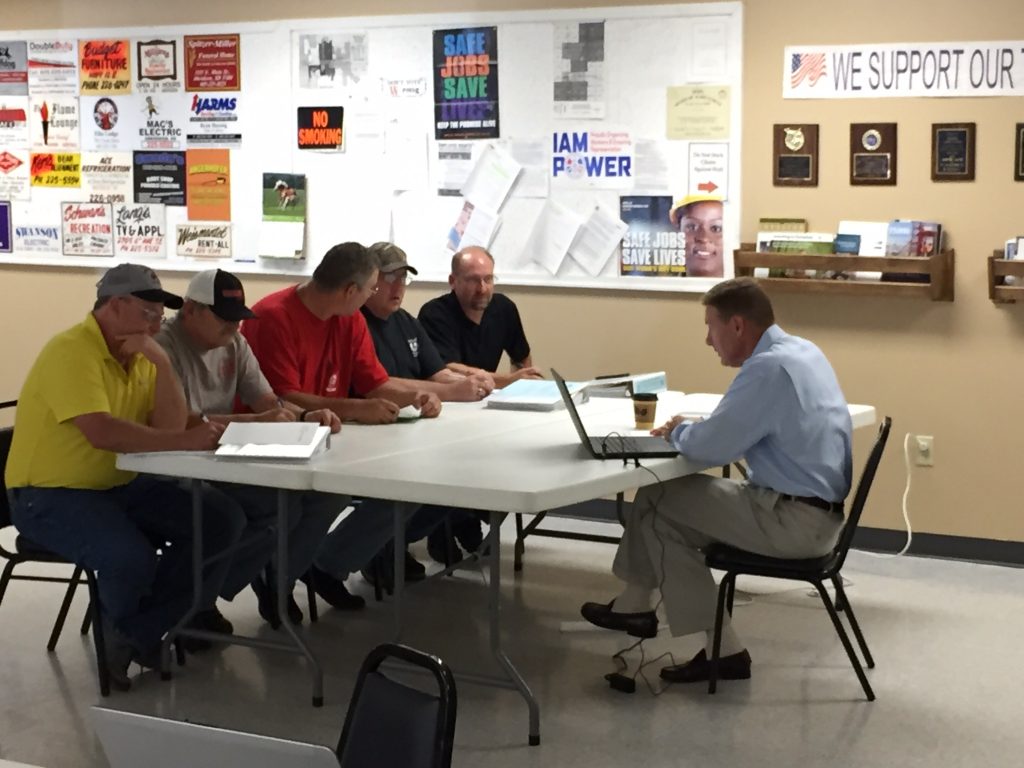 Members of the IAM Local 862 Bargaining Committee take part in a bargaining simulation with William W. Winpisinger (WWW) Director Chris Wagoner, right, playing the role of the company. The exercise – the highlight of WWW's Negotiation Preparation for Bargaining Committees Program – is designed to give bargaining committees a realistic taste of the frequently-intense atmosphere at the bargaining table. Pictured left to right: Local 862 Bargaining Committee members: Joe Kaven, Local 862 President; Carey Gardner; Gregg Cramer; Dawayne Huettl; and Dennis Mendenhall, District 5 Directing Business Representative.
Members of the IAM Local 862 Bargaining Committee didn't have to go far in order to take part in their union's specialized training program for upcoming contract negotiations. Instead of traveling from Aberdeen, South Dakota to the IAM's William W. Winpisinger (WWW) Education and Technology Center in Hollywood, MD, the program came to them.
The one-week training is a part of the IAM's new Negotiation Preparation Field Program.
In an effort to support and augment its highly-successful Negotiation Preparation for Bargaining Committees Program, currently held at the center, WWW rolled out the new field training program. The program offers a more flexible format for negotiating committees, stewards and members. It is not designed to replace the Winpisinger-based Negotiation Prep program, but can accommodate for situations where in the field negotiations preparation is the better option.
The Local 862 Bargaining Committee spent a week learning, planning and developing a constructive and unified approach to their upcoming negotiations with power transmission-maker Hub City, Inc.
"The membership of Local 862 will be going into contract negotiation with Hub City in September of this year," said IAM District 5 Directing Business Representative Dennis Mendenhall. "To prepare the committee for the upcoming negotiation, the Local elected to do the Negotiation Prep Field Training. Going into this round of negotiation the current committee had little or no experience at the table. This was a great way to not only build a strategy for negotiation, but build confidence and a solid working relationship within the committee."
As part of the program's customized training modules, the bargaining committee worked together to produce tools and plans specific to their members and upcoming negotiation. Training topics included how to draft contract language, present proposals, analyze the company's strengths and weaknesses, mobilize and communicate with members – plus more.
The week culminated in a bargaining simulation – the highlight of the program – designed to give the bargaining committee a realistic taste of the frequently-intense atmosphere at the bargaining table.
"With the information provided to us in this class, we are much more educated on the negotiation process and how to plan a successful strategy to negotiate the best contract possible," said IAM Local 862 President Joe Kaven. "The simulation better prepared us for things that could happen during negotiations. The wealth of knowledge presented by all instructors in this class will be used not only in this negotiation but many more to come."
Instructors included WWW Director Chris Wagoner, IAM Midwest Territory Grand Lodge Representative Luther Williams, Special Representative Kevin Murch, Educator Joe Gruber, and several departmental staff from across the Midwest Territory and Grand Lodge.
"Having the opportunity to work with WWW educators, my staff, and departmental staff from the Grand Lodge in planning and strategizing the best ways to ensure Local 862 members the best contract is a huge benefit to our membership," said IAM Midwest Territory General Vice President Philip J. Gruber. "Local 862 members are preparing to go into negotiations in a Right to Work (For Less) state. That, alone, comes with its own challenges. Having a sound strategy will be key to negotiating a strong contract."
The Local 862 bargaining unit is composed of approximately 152 IAM members who manufacture gearboxes. The current contract expires September 23, 2017.
The post South Dakota IAM Local 862 Completes IAM Field Negotiation Prep Class appeared first on IAMAW.
Source:: iMail