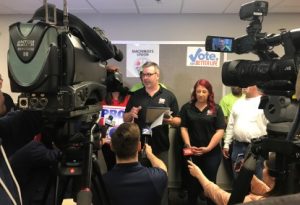 Boeing workers who build the 787 Dreamliner in North Charleston, SC will have the chance to vote to join the IAM.
The IAM filed a petition on January 20, with the National Labor Relations Board (NLRB) to hold a secret-ballot union election for approximately 2,850 production employees at the Boeing Co. in North Charleston, S.C.
"Boeing workers just want to be treated with the respect they deserve," said IAM Boeing SC Lead Organizer Mike Evans. "Why should they be subject to a different set of standards and rules than folks building the exact same plane in Seattle?"
Watch the IAM's announcement from the Longshoremen's Hall.
Read about the Machinists' campaign in the Post and Courier and the Seattle Times.
The NLRB is expected to issue election dates and locations in the coming weeks. The IAM is committed to ensuring Boeing workers have the opportunity to make their voice heard in an atmosphere free of intimidation and harassment.
The IAM is the U.S.'s largest aerospace union, representing approximately 600,000 members at the likes of Lockheed Martin, General Electric and United Technologies. The IAM represents more than 35,000 Boeing employees at 24 locations nationwide.
For more information about the campaign visit BoeingWorkers.com.
The post South Carolina Boeing Workers to Vote on IAM Representation appeared first on IAMAW.
Source:: iMail