Six weeks on strike is tough; ask anyone who has ever walked in those shoes. But for the members of Local 708 on strike against FlightSafety Services Corporation (FSSC) in Wichita, KS, there's really no other choice than to carry on.
"What we so often forget when a strike is taking place is the passion is takes to keep going," said IAM Southern Territory General Vice President Rickey Wallace. "Six weeks is a long time to be without a paycheck, or the means to pay your mortgage, put groceries on your table or purchase the medicine your family needs. We should never forget or understate the sacrifices of those who strike…they do it for all working people."
IAM Local 708 member Gregg Larson is one of the Machinists who spent time on the strike line in front of McConnell Air Force Base. Larson and his wife Gretchen made headlines this January for having the area's first baby of 2019. Now, he's just hoping to be able to take care of his wife, his two little girls and the family's newest addition.
IAM Local 708 Member Gregg Larson
"Without our health Insurance, we've had to push back a wellness check and immunizations for my two-month-old daughter. It's exhausting not to have the ability to care for my wife and daughters both financially and medically," explains Larson. "But this fight is bigger than just me or my family. This is a fight for all working people. "
At six weeks in, several members have lost their health insurance coverage. IAM Member Daniel Rodriguez is one of those cases. Father of five, his 11-year-old son was diagnosed last year with muscular dystrophy. He's had to make some unbearable decisions about his care, even stopping his son's weekly physical therapy sessions for the time being. It's a decision no father should ever have to make.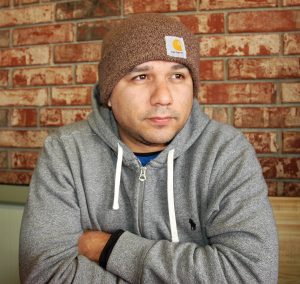 IAM Local 708 Member Daniel Rodriguez
"I feel like a charity case, and it doesn't feel very good," said Rodriguez. "I used to be able to provide for my family and now I can't."
Until FSSC makes an offer that brings these working-class heroes up to industry level wages and benefits, the Machinists of 708 won't stop walking. This group promises to carry on, not just for themselves but for all the families of the working class.
The post Six Weeks In appeared first on IAMAW.
Source:: iMail