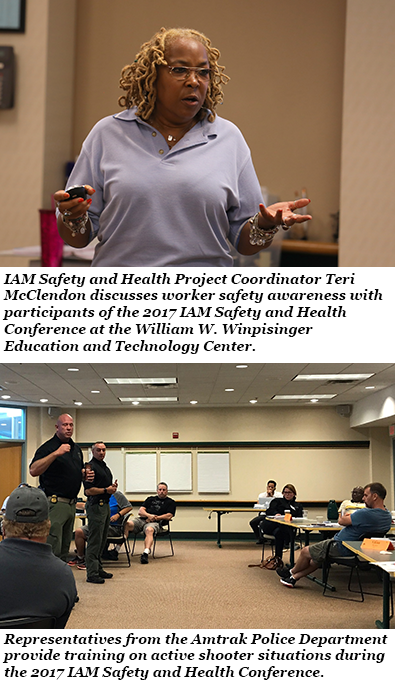 IAM members attending the 2017 Safety and Health Conference last week received all types of training to help protect the lives of workers on the job. However, with the opioid crisis reaching nearly every town in America, the training attendees received on opioid addiction and overdose treatment may very well be what they will need most often to immediately safe lives.
Conference attendees were trained and certified in recognizing the symptoms of an overdose and administering Naloxone, often referred to as Narcan. They also received a prescription of the medicine which blocks the effects of opioids and reverses an overdose, thanks to the St. Mary's County Maryland Health Department.
"Opioid addiction isn't something people are excited to talk about," said IAM Safety and Health Department Director Jim Reid. "However, it would be an injustice if we pretend our members and their families aren't being affected. We have to face the crisis head on just like we do every other workplace hazard"
The 2017 Safety and Health Conference themed "Safety is Not Just for the Workplace," took place at the William W. Winpisinger Education and Technology Center in Hollywood, MD. In addition to the opioid training, participants received other workplace hazard training including conflict resolution, plume mapping, women's hazards, safety inspections, OSHA walk-throughs, active shooter scenarios and workplace violence.
"Safety is the most important thing when it comes to our members," said Reid. "Everyone should have the right to a safe work environment free from immediate hazards and long lasting effects. The Safety and Health Conference provides our members with the latest education and training on how to help provide safer workplaces and home situations for our members."
The post Safety, Not Just for the Workplace appeared first on IAMAW.
Source:: iMail