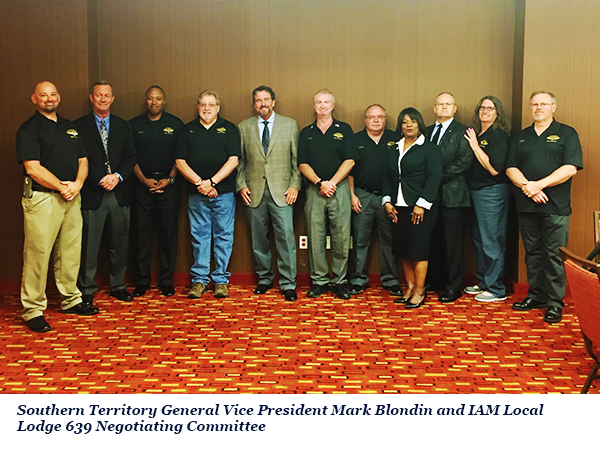 There's a reason why Wichita, KS is called the 'Air Capital of the World.' This is the hub of aircraft manufacturing. And as nearly 450 Machinist members from IAM Local 639 begin negotiations with Learjet Corporation, that's first and foremost in the minds of most.
"Since the early 20th century, Wichita has been the epicenter of aircraft production. The IAM has walked each and every step of that journey with our members in this city," said IAM Southern Territory General Vice President Mark Blondin. "Today we celebrate this historical passage as we watch generation after generation follow each other into these shops. That's a legacy we won't forget as we bargain these members a contract that keeps this 'American story' alive and well in the heart of this great country."
Learjet Corporation, part of Bombardier Aerospace, has been calling Wichita 'home' since the 1960s. It was one of the first companies to manufacture a private, luxury aircraft. The working men and women of Wichita take great pride in this symbol of sleek lines and elegant maneuvers, all produced with the hard work and sweat of a down-to-earth group of Machinists.
"We've taken concessions in the past to make sure the company would stay in Kansas and could be profitable. We don't want to do that again. We want to make sure that our hard work is being noticed by the company in the form of a good contract for our members," said Local 639 Negotiating Committee Member Donna Clark. "Our members want job security, affordable healthcare and pensions, and they deserve that."
Southern Territory Grand Lodge Representative Mark Love agrees. "The IAM is a leader in aircraft manufacturing and we have had a solid relationship with Learjet for nearly half a century. But at the end of the day, it's the workers here on the ground in Kansas that make this company succeed. We want to make sure they receive a contract that mirrors their dedication to being at the top of the list of the best aircraft producers in the world. They deserve nothing less."
The IAM and the company opened talks last week. No one can say how long these negotiations will go but the contract is set to expire on October 9, 2017. Local 639 has the full support of the Southern Territory and IAM District 70, both promising to remain at the table no matter how long it takes.
"In our district, when one local is at the table, we are all at the table," said District 70 Directing Business Representative Cornell Beard. "Because that's what we do in Wichita – we support each other, especially when it comes to our IAM family. Local Lodge 639 needs to know that District 70 has its back and together we will stand up for what's right. Because at the end of the day, a good contract for one is a good contract for all."
"One Voice, One Contract. That's the phrase being used on the shop floor in the Learjet facility," said Blondin. "This city isn't new to the negotiating game and they know, in their hearts, that if they stand strong, with one voice, they will be prosperous at the end of the day. They are a strong group and I commend them for their commitment to keeping Wichita alive."
The post One Voice, One Contract appeared first on IAMAW.
Source:: iMail