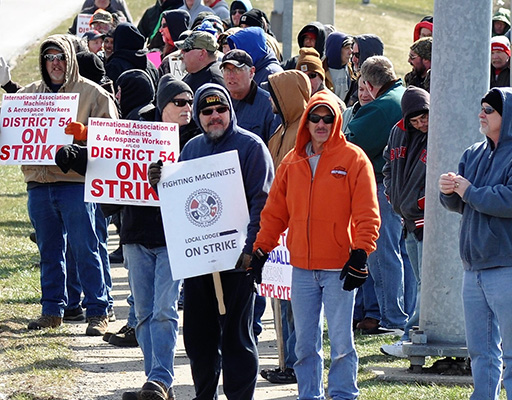 Nearly 200 members of Local 1285 overwhelmingly voted to ratify a new three-year agreement with Gradall Industries, bringing an end to the month-long strike. The New Philadelphia, OH workers went on strike after rejecting a so-called "last, best and final offer" from the excavator manufacturing company.
The new contract keeps the current healthcare package for the life of the agreement, which was a major point of contention between the parties. Highlights of the agreement include yearly wage increases and an increase in contributions to the IAM National Pension Plan.
Key factors in the dispute were healthcare, including benefit coverage, and employee contribution rates. The company has proposed the ability to arbitrarily change the level of benefits within a plan yearly, at the time of renewal beginning this August of the agreement.
"Our membership held the line on their healthcare," said IAM District 54 President and Directing Business Representative T. Dean Wright Jr. "Their solidarity, resolve – the support from this community, family, and friends – was nothing short of amazing, and helped to secure this important victory."
"Congratulations to these members," said Eastern Territory General Vice President Jimmy Conigliaro Sr. "Holding the line on healthcare took tremendous courage and solidarity from the members and their families. My thanks go out to PDBR Wright, BR Don Riffee and the negotiating committee for a job well done. This effort took solid leadership. The proof is in the outcome."
Members began reporting for shifts beginning Sunday, April 8.
The post Ohio Members at Gradall Ratify Contract, Ending Strike appeared first on IAMAW.
Source:: iMail