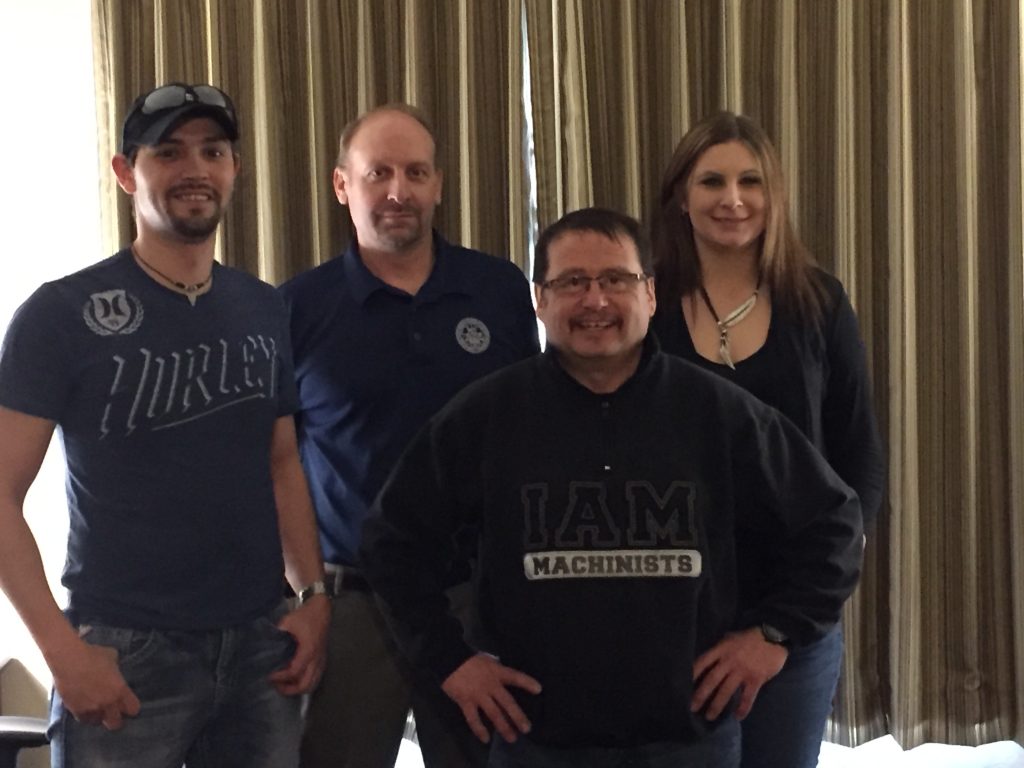 IAM Local 2525 Bargaining Committee members, left to right, Jamie Allard, IAM District 5 Directing Business Representative Dennis Mendenhall, Maynard Hall and Jaiden Creary negotiated a new three-year contract for IAM members at Rugby Manufacturing in Rugby, ND.
Members of IAM Local 2525 have ratified a new agreement with Rugby Manufacturing in Rugby, ND.
The three-year contract includes wage increases of 2.9 to 4 percent each year for senior employees (24+ months), a 2.9 to 4 percent increase to the wage rate table, a 1.5 percent wage increase and improvements in the wage table steps each year for those employees who are new hires to 24 months. The agreement also includes a minimal increase in health insurance, improvements in reimbursements for safety equipment, and an improved attendance policy.
"I would like to thank the Local 2525 Bargaining Committee and IAM Grand Lodge Representative Tim Hough for the time and hard work they put into these negotiations," said IAM District 5 Directing Business Representative Dennis Mendenhall. "The improvements achieved in this contract will benefit all of our members and has laid a foundation for growing union membership in this shop."
North Dakota is a right-to-work state.
IAM Local 2525 members at Rugby Manufacturing build dump truck bodies and flat beds for trucks.
"Congratulations to IAM Local 2525 members and the entire Bargaining Committee on a job well done," said IAM Midwest Territory General Vice President Philip J. Gruber. "Our members stood strong and won improvements they can be proud of. We're proud of the work they've done and their solidarity in improving the lives of their co-workers and families, and for helping set the standard for future union members, both, in the shop and across the country."
The post North Dakota Local 2525 Members Ratify Rugby Contract appeared first on IAMAW.
Source:: iMail