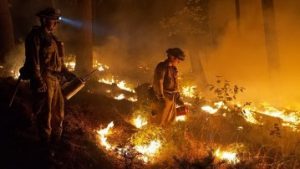 In an important policy-changing grievance settlement, California National Federation of Federal Employees (NFFE-IAM) Local 2152 has secured $65,000 to compensate its bargaining unit firefighters.
The local filed the grievance as a challenge to the policies of the Bureau of Land Management (BLM), which denied night differential pay to employees for scheduled night work between 6 p.m. and 6 a.m. while on a temporary fire assignment.
"While this grievance settlement is clearly a victory for California BLM employees who were denied night differential pay, it is also a victory for all BLM federal wildland firefighters across the country," said NFFE-IAM National President Randy Erwin. "Local 2152 worked hard to win this financial relief for its members, and together we will hold all federal agencies accountable when NFFE-IAM bargaining unit employees do not receive the pay and benefits to which they are rightly entitled by law."
Many of these men and women work in dangerous conditions for up to 16 hours a day for around $15 per hour. Once mobilized, it is not uncommon for seasonal firefighters to spend stretches of more than a month away from home.
Click here to learn about two members who have spent their careers in hazardous situations protecting homes, communities and forests.
NFFE Local 2152 President Elaine Downing took the grievance action after determining that the National Wildfire Coordinating Group (NWG) interagency handbook, also known as the "yellow book," conflicts with federal law regarding the night differential.
"We are very pleased to see that the Bureau of Land Management and the National Park Service now each have written national policies that support the proper payment of night differential for all of their employees who support wildland fire fighting, in spite of the handbook," said Downing. "It is our hope that the NWCG will rewrite Chapter 10 of the yellow book and correct the flawed language regarding night differential as soon as possible so that all federal employees across all federal agencies who support fire will be properly paid."
The post NFFE-IAM Firefighters Win $65,000 Settlement Over Night Differential Pay appeared first on IAMAW.
Source:: iMail