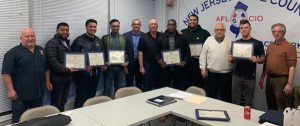 Since 2009 IAM CREST has worked with IAM District 15 to encourage New Jersey high school students interested in careers as automotive and diesel technicians to enroll in the IAM Apprenticeship Program.
From left: Local 447 President Joseph Scianna, Local 447 Automotive Technicians Edwin Acevedo, Warleen Carrera and Carlos Marin; District 15 Business Representative Cristino Vilorio, IAM Director of Apprenticeships Jim Reid, Local 447 Diesel Mechanic Joas Jean, Local 447 Automotive Technician Miguel Torres, District 15 Directing Business Representative Dominic Taibbi, Local 447 Diesel Mechanic Michael Csordas and IAM CREST Apprenticeship Coordinator Ira Stern. Not pictured Local 447 Automotive Technician Ben Colon.
At the latest District 15 meeting, apprenticeship completion certificates were awarded to seven students who enrolled in the program in 2015. The new journeyman automotive technicians and diesel mechanics are employed under IAM contracts at area Honda, Mazda and Penske locations.
"Through hard work and dedication, these members have earned the respect of their IAM brothers and sisters in the industry and across our union," said IAM Eastern Territory General Vice President Jimmy Conigliaro Sr. "They represent our future, and I congratulate them on achieving the status of journeymen."
With constant technological advances in vehicles and maintenance equipment, the apprenticeship program offers participating employers motivated and reliable employees while they learn. Apprentices receive classroom and on-the-job training for a skilled career with good pay and the other benefits of an IAM contract.
"I am very proud of these Local 447 members for what they've accomplished," said IAM District 15 Directing Business Representative Dominic Taibbi. "I'm also proud of the ongoing work of IAM CREST and District 15 staff, and employers who understand the value of apprenticeships."
Through the New Jersey Youth Transition To Work (YTTW) grant program, IAM CREST works with IAM represented dealerships and service centers to place accepted apprentices in paid positions while they complete the four-year apprenticeship program.
The post New Jersey Auto and Diesel Techs Complete IAM CREST Apprenticeship Program appeared first on IAMAW.
Source:: iMail