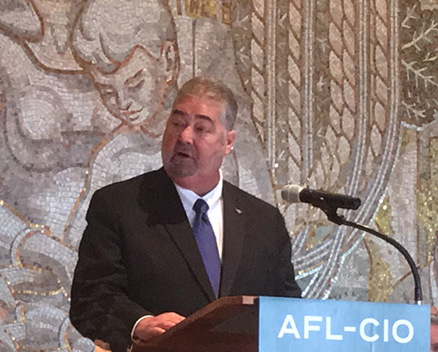 IAM International President Bob Martinez is heading a new initiative aimed at ensuring manufacturing workers are treated with justice and dignity in the face of technological change.
Martinez is the chair of the AFL-CIO manufacturing subcommittee on the Future of Work and Unions.
"Our key task as a commission is to review the challenges workers will face in the future as the attack on labor law continues, outsourcing increases, threats to promises of pensions rise and efforts to destroy health care grow," said Martinez. "Adding to these challenges are all of the dramatic technological changes that are occurring in the workplace."
Today, the IAM represents workers who build, operate and maintain some of the most sophisticated machinery and equipment in the world including military and commercial aircraft, rockets, Navy ships and medical equipment. Machinists Union members are using computers, lasers and other cutting-edge tools to do their jobs.
New technology, processes and automation have made three or four workers today just as productive as an entire factory a generation ago. New additive technologies, like 3-D printing, could further reduce manufacturing jobs and change the way entire supply chains operate.
"For the labor movement, the question is not how we stop technological innovation. New technologies and processes are inevitable," said Martinez. "The future of work must consider how workers and their unions will have the ability to organize and mobilize in ways that give them a stronger voice in the workplace."
I'm about to speak live about the future of work and unions at the @AFLCIO. #IdeasAtWork https://t.co/zEbHLdxKM5

— Robert Martinez Jr. (@IAMBobMartinez) May 3, 2018
The post Martinez Leading Manufacturing Committee on Future of Work appeared first on IAMAW.
Source:: iMail