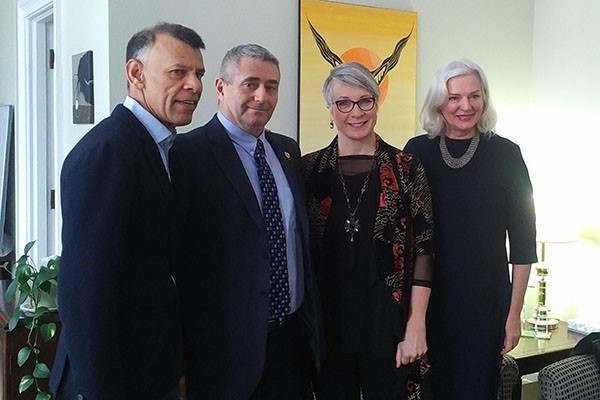 The IAM members and other unions of the Canadian Labour Congress (CLC) lobbied Parliament to stop Bill C-27, an attack on defined benefit pension plans. From left: CLC President Hassan Yussef; IAM Canadian Vice President Stan Pickthall; Employment, Workforce Development and Labour Minister Patty Hajdu; and Alliance of Canadian Cinema, Television and Radio Artists President Ferne Downey.
Parliament Hill in Ottawa was awash with a sea of IAM members Tuesday, in a Canadian Labour Congress-led lobbying effort against a bill that would make it easier for employers to abolish defined benefit pension plans.
The IAM's position was clear when Bill C-27 was introduced in the House of Commons in October 2016.
"Under no circumstances will we agree to dispose of defined benefit plans," said IAM Canadian Vice President Stan Pickthall. "The current legislation would allow employers to rid themselves of obligations for defined benefit plans retroactively. Our retirees paid into these plans, a promise was made to preserve their income security and dignity, a promise is a promise and we'll hold the government to keep it."
Très agréable rencontre ! Merci pour votre temps M Boulerice @alexboulerice @iamgeraldt #canlab #C27 #pharmacare #payequity pic.twitter.com/UXZRWhT5yD

— Nasr (@NasrKairouz) February 8, 2017
"The CLC had 341 union activists blitz parliament hill Tuesday and the largest contingent was our 64 IAM members and I'm very proud of efforts. Once again, we punched above our weight," said Pickthall. Brian Masse, a New Democratic Party member of Parliament representing Windsor West, ON visited with an IAM delegation and supports the CLC position. "A defined benefit plan is actually a deferred pay check that workers have been accumulating for years and to arbitrarily change them without consultation is just plain wrong," said Masse. "These plans were negotiated over a period of years and people count on them for financial security, Bill C-27 has to be stopped."
Thanks @BrianMasseMP for an excellent discussion on #PayEquity #pharmacare #BillC27 #canlab #lobby2017 pic.twitter.com/1OTAW5ZkRD

— Aurélie Sarrabezolle (@aureliesarra) February 7, 2017
READ: Bill C-27 Imperils Canadians' Pensions
"A deal is a deal, and promises have been made to retirees so they can retire with dignity and secure pensions," said Pickthall. "Our position is clear, we want no changes and no closures of defined benefit plans."
The post Machinists Lobby to Protect Pensions in Ottawa appeared first on IAMAW.
Source:: iMail