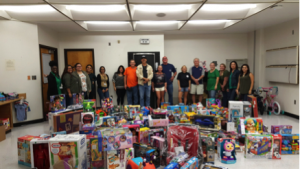 For more than a decade, the brothers and sisters of IAM Local 2061 at the Kennedy Space Center in Cape Canaveral, FL have been coming together to make a difference for the kids in the Sunshine State. And this year was no different.
Joining forces with Brevard Family Partnership, IAM Members granted 300 kids a Christmas wish from their list.
"This is one of those times I wish the Machinists in the South would be a bit more boastful," said Southern Territory General Vice President Mark A. Blondin with a smile his face. "It doesn't matter that it's January. Our members at Kennedy Space Center need to know how proud we are that they have brought joy to the children in their communities for the past ten years. Giving a child a Christmas wish is like gifting hope. And to be this sort of Santa Claus for hundreds of children throughout the past decade, that's something to brag about."
IAM Member Steve Ching of Local 2061 has been working as one of 'Santa's elves' since the beginning.
"We spend all year long looking for ways to raise money for this event," said Ching. "Breakfasts, golf tournaments, candle sales…whatever it takes! This is something we all look forward to doing – making a young boy or girl's letter to Santa come to life. But believe me, it's addictive seeing the smiles that it brings."
In the end, IAM members surpassed last years' total numbers and raised more than $10,500. The Target store in Titusville, Florida joined in the activities by donating nearly $900 in gift cards and shopping discounts. Special thanks to the brothers and sisters of Local Lodge 2061, as well as Locals 610, 779 and District 166 for their donations. And of course, to those Machinists and their families who donated their time, money and compassion to this event. You are the reason we call each other Brother and Sister in the Southern Territory!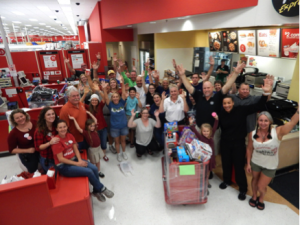 The post Kennedy Space Center Machinists Give Santa a Helping Hand appeared first on IAMAW.
Source:: iMail