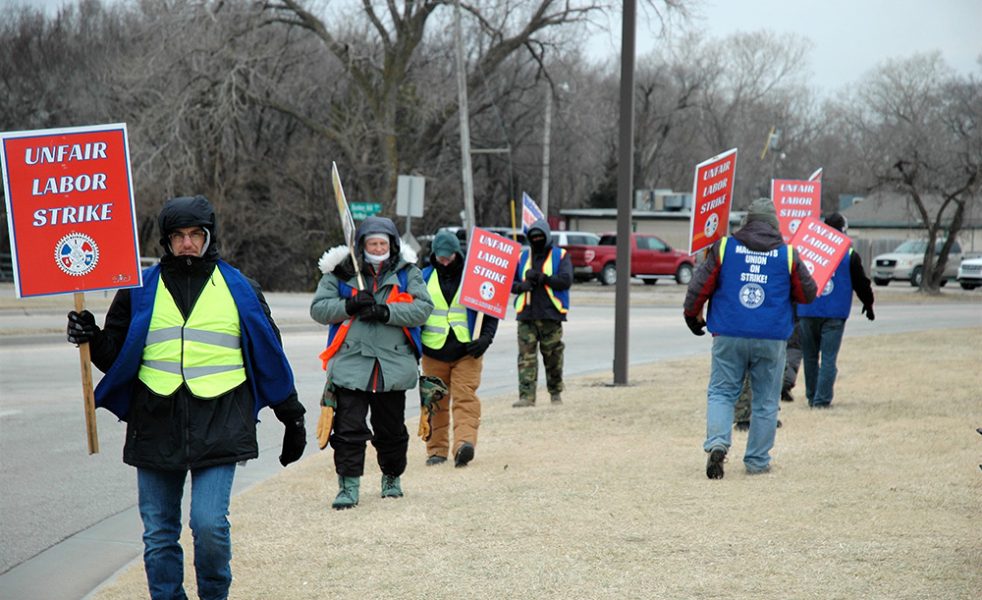 "We're doing the right thing here," said striking IAM Local 708 member Paul Powell. Powell is a retired U.S. Air Force lieutenant colonel and currently a pilot instructor for the KC-46 Air Crew Training System at McConnell AFB. He fights the frigid temperatures in Wichita by heating up the spirits among his coworkers currently on strike with FlightSafety Services Corporation (FSSC). He wants to ensure that those on the line, and in the community, understand what's at stake in this fight.
"When one of our brave members in the Southern Territory decides they need to vote for a strike, they do so with a heavy heart as it's a burden to themselves and their families," said IAM Southern Territory General Vice President Rickey Wallace. "But the gravity of the situation is not just financial because when one worker walks, he or she walks for the rights of all workers. So often, that is forgotten in the headlines that are written."
"Striking is always our last resort. But sometimes, we must stand and fight for what is right and virtuous," said District 70 Directing Business Representative Cornell Beard who is proud to support his brothers and sisters making a difference for all aerospace workers. "I am impressed by the members of this close-knit group. The best words of encouragement I can offer is keep your union close, but your union family closer."
Powell isn't the only veteran standing up for workers. In fact, we owe a debt of gratitude to every one of the Machinist members on strike against FSSC, as they have all proudly served this country.
"We are all like family in this group. We share a lot of solidarity and we enjoy what we do, which is teaching these young people how to fly these aircraft and keep everyone safe," said Powell.
That's why getting the Service Contract Act provision in their bargaining agreement has become paramount to these veterans.
"These men are American patriots and not asking for anything out of the ordinary for the work that they do. The Service Contract Act inclusion would provide them a fair collective bargaining agreement. I can't find fault in that logic," said District 70 Business Representative and Negotiator Tyson Kelly.
IAM Aerospace Coordinator Tony Blevins couldn't agree more.
"The IAM stands ready to return to the bargaining table to resolve this unfair labor issue so the FSSC employees can get back to providing the best training to the U.S. Air Force and continue their role of defending our Nation and her interest," said Blevins.
The post Kansas Machinists Holding Strong appeared first on IAMAW.
Source:: iMail