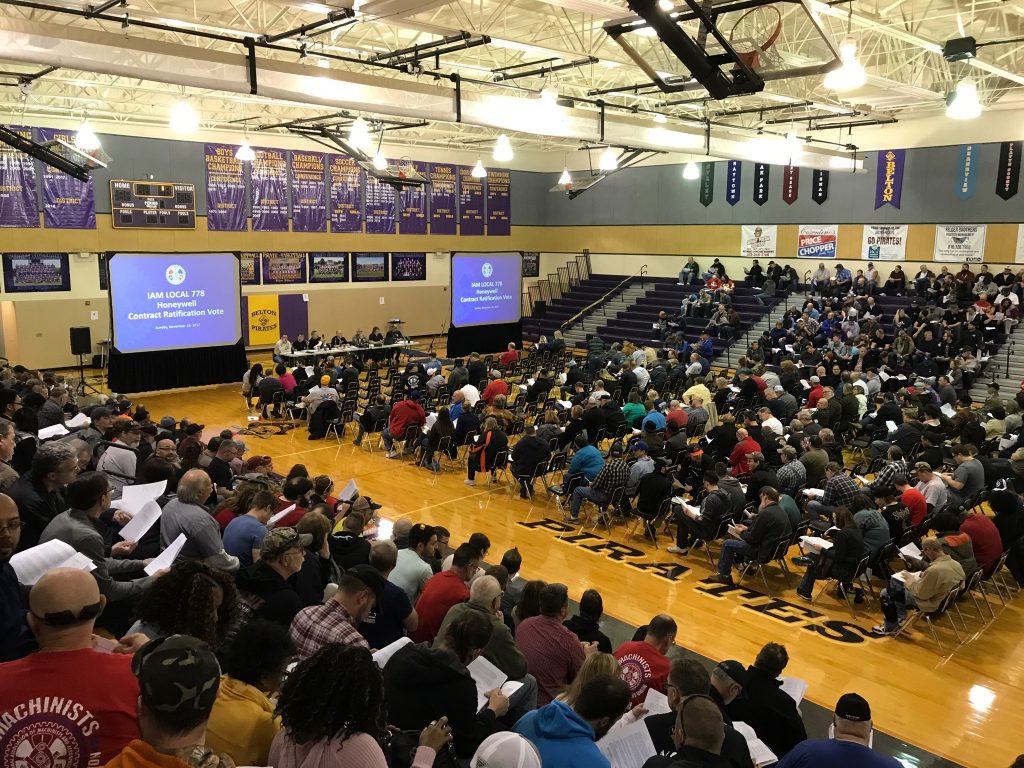 Nearly 900 members of IAM Local 778 ratified a new tentative agreement with Honeywell FM&T in Kansas City, MO with an overwhelming majority vote.
Nearly 900 members of the International Association of Machinists and Aerospace Workers Local 778 have ratified a new tentative agreement with Honeywell FM&T in Kansas City, MO.
The proposal passed with an overwhelming majority vote, 529-62, Sunday.
See photos of the Honeywell ratification vote
The approval comes six years after Honeywell employees overwhelmingly voted down the company's proposal to implement of a two-tier wage system and eliminate retiree health insurance. The egregious proposal initiated a strike which lasted 41 days.
Today's agreement, which takes effect 12 am, Monday, November 20, 2017, significantly begins to bridge the gap between the company's ill-fated two-tier system. It calls for significant pension increases, company-paid short-term disability, additional vacation hours, an increase in paid absences, a shorter probationary period for new hires, and an increase in the number of Stewards.
"I am proud of what we accomplished with this agreement and the unprecedented show of support and solidarity from the membership," said IAM Local 778 Directing Business Representative (DBR) Joe Capra. "General wage increases, higher pension contributions and better work rules means a stronger workforce. This contract will also help Honeywell in its ability to attract and expand its workforce."
"I want to thank the entire Bargaining Committee," continued Capra, "who were extremely prepared going into these negotiations. They've been working on this for eleven months, including a one-week negotiation preparation training provided by the IAM's William W. Winpisinger Education and Technology Center in Maryland. When folks ask where their union dollars are going, the answer is to special training programs like these. This Committee's specialized training and months of early preparation gave them a huge advantage at the negotiation table."
"These negotiations took on an entirely different tone than negotiations of the past," said IAM Local 778 Business Representative (BR) Leo Berroteran. "And that's thanks to the members who stood out on the strike line in 2011. Their courage and solidarity back then is what made the difference today. This Committee entered these negotiations with a purpose – and that was to begin to right the company's mistakes of the past. They pledged to lead the fight to make it right and set a new precedent for the future. And that's exactly what they did."
"Congratulations to IAM Local 778 members and the entire Bargaining Committee on a job well done," said IAM Midwest Territory General Vice President Philip J. Gruber. "The Committee was well prepared and the bargaining unit stood strong. We couldn't be more proud. Thank you to DBR Joe Capra and BR Leo Berroteran for your leadership. Together Local 778 carried the charge and won improvements they can be proud of. This is a huge win in Missouri – a state where Right to Work efforts are critically in play. What's happened over the last six years at Honeywell only confirms why you need a union in the first place. This contract would not have come to fruition without the collective bargaining power of its workforce."
See photos of the Honeywell ratification vote
The post Kansas City Local 778 Members Ratify New Contract at Honeywell appeared first on IAMAW.
Source:: iMail