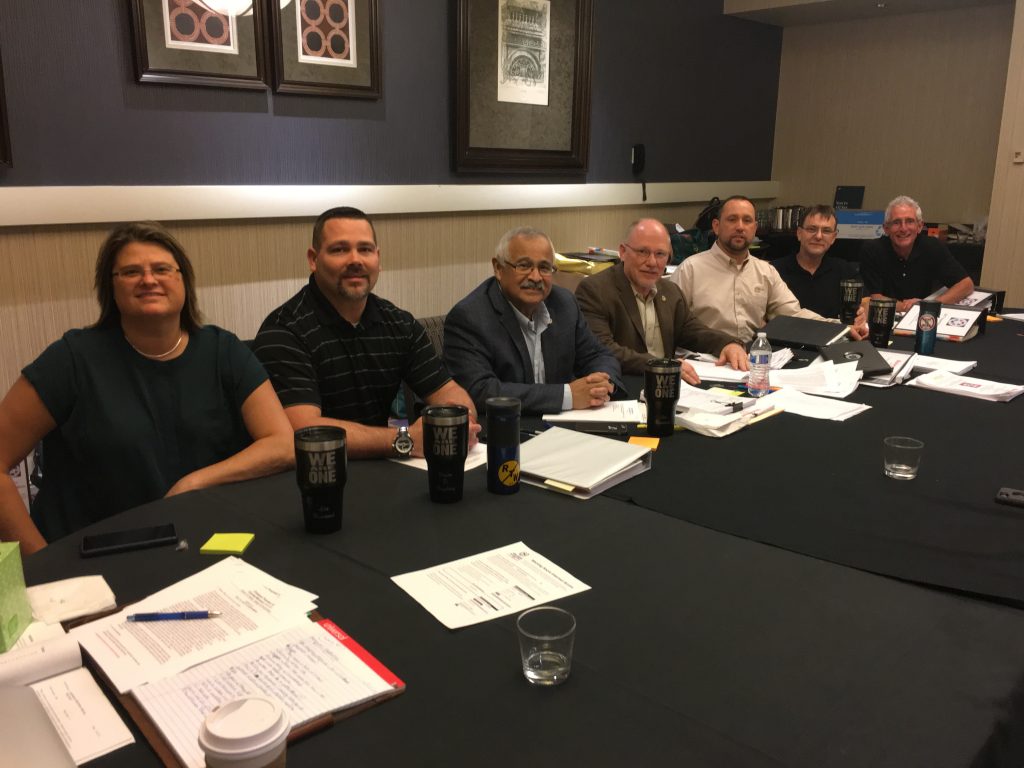 Members of the IAM Local 778 Bargaining Committee open negotiations with Honeywell in Kansas City, MO. Pictured left to right: Lisa Hammond, Jayson Daugherty, BR Leo Berroteran, DBR Joe Capra, Landon Miner, David Latta, John Caproitti.
Members of the IAM Local 778 Negotiating Committee opened negotiations Wednesday, November 1, 2017 with Honeywell in Kansas City, MO.
The contract – which covers nearly 900 workers who do contract work for the Department of Energy – is due to expire November 19, 2017.
"Today's opening session was productive," said IAM Local 778 Directing Business Representative Joe Capra. "We managed to cover a portion of the language on non-economic issues, and look forward to continuing these talks over the upcoming weeks."
"I've been with this company for 39 years and negotiations have always gone smoothly – except for our last contract six years ago," said IAM Local 778 Business Representative Leo Berroteran in reference to the bargaining unit's last round of negotiations, which resulted in a strike that lasted 41 days. "The committee is hopeful this round of negotiations will not follow the path of 2011. We look forward to working with the company in negotiating a fair and equitable contract."
"I want to thank the members of the negotiating team for their commitment, hard work and dedication in preparing for these negotiations," said Capra, "and most importantly, the membership. Our members are the strength behind this committee. Their support and solidarity are vital as we embark on the negotiations of this contract over the next few weeks."
For updates on the Honeywell negotiations, visit the www.Lodge778.org website or follow the IAM Local 778 Facebook page.
The post Kansas City IAM Members Open Negotiations with Honeywell appeared first on IAMAW.
Source:: iMail