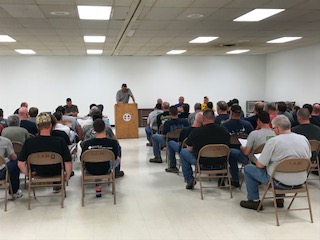 Members of IAM Local 1010 ratify an effects agreement with Siemens Energy, Inc., ahead of the company's recently-announced plant closing in Burlington, Iowa.
Members of IAM Local 1010 have ratified an effects agreement with Siemens Energy, Inc., ahead of the company's recently-announced plant closing in Burlington, Iowa. The agreement covers how workers will be compensated during and after the shutdown.
Siemens officials met with IAM Local 1010 members at the Burlington facility in late April, dropping the bombshell announcement that the company was eliminating a portion of their product and the remaining products would be moved to other facilities in the U.S. and Europe.
The news came on the heels of two previous Siemens plant closings announced back in February, affecting IAM Local 1580 members in Wellsville, NY and Local 90 members in Mount Vernon, Ohio.
The Burlington plant closure will affect 61 IAM members who make small steam turbines for other manufacturing companies. The facility has been in the community for nearly 150 years.
Read "Iowa Local 1010 Machinists Fight Siemens Plant Closing"
"Members of IAM Local 1010 approved an effects agreement amid some very unfortunate circumstances. They should be commended for their solidarity during this difficult time," said IAM Grand Lodge Representative Shannon Stucker. "The entire Bargaining Committee worked hard representing the members affected and continued to go back to the table with Siemens until the company stated they could provide no more severance and benefits. They were a very determined Committee and have represented the members of Local 1010 and the IAMAW proudly and professionally."
Members of the Bargaining Committee included Stucker, IAM District 6 Directing Business Representative Scott Webster, Chairman Randy Goble, Chris Tucker, Kent Timmerman, Justin Scott and Guy Pratt.
IAM International President Bob Martinez recently held a press conference with House Democratic Leader Nancy Pelosi and House Democrats on the topic of plant closings and the broken promises of Trump's #GOPTaxScam.
The IAM maintains the recent plant closings taking place across the country are a direct effect of the Trump tax plan signed into law in late December.
"I am sick and tired of seeing companies like Harley-Davidson, Electrolux, Siemens—just to name a few—take a tax break with one hand and close plants and destroy communities with the other!" said Martinez. "These companies are taking tax breaks with one hand and handing out pink slips with the other. I'm going to call it like I see it. This is a corporate ambush on working people."
Siemens anticipates layoffs beginning August 2018. The plant is scheduled to close by January 2019.
The post Iowa Members at Siemens Approve Effects Agreement appeared first on IAMAW.
Source:: iMail