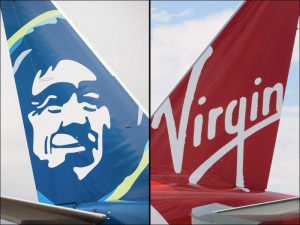 The International Association of Machinists and Aerospace Workers (IAM) today won certification as the representative for 5,500 employees at Alaska Airlines and United Ground Express.
The National Mediation Board (NMB) certified the IAM to represent the entire Clerical, Office, Fleet and Passenger Service Employees craft or class at Alaska Airlines, Inc. The NMB certification confirms that post-merger Alaska Airlines and Virgin America are now functioning as a single transportation system for representation purposes for Clerical, Office, Fleet and Passenger Service employees of the combined carrier.
Stores employees will continue to be represented by the IAM without the need for a single carrier determination from the NMB. There are no similar corresponding employees from Virgin America.
"This certification assures that all our members at Alaska Airlines will work under the provisions and safety our collective bargaining agreement affords," said IAM Transportation General Vice President Sito Pantoja.
"The IAM will continue to welcome and integrate the Virgin America employees into the IAM structure," said District 142 PDGC Dave Supplee.
In February 2017, the IAM filed an application with the NMB asserting that Alaska Airlines and Virgin America constituted a single transportation system. This certification reaffirms that the IAM represents approximately 4,500 members at post-merger Alaska.
The NMB also officially certified the IAM as the representative for approximately 1,000 United Ground Express (UGE) employees. The certification was the final step in the process of union representation for UGE.
"This UGE certification gives solid IAM representation to workers in this segment of the industry that has been too frequently neglected," said GVP Pantoja.
UGE is a subsidiary of United Airlines, which handles above and below the wing duties in 31 locations nationwide.
The post IAM Wins Certification at Alaska Airlines, United Ground Express appeared first on IAMAW.
Source:: iMail