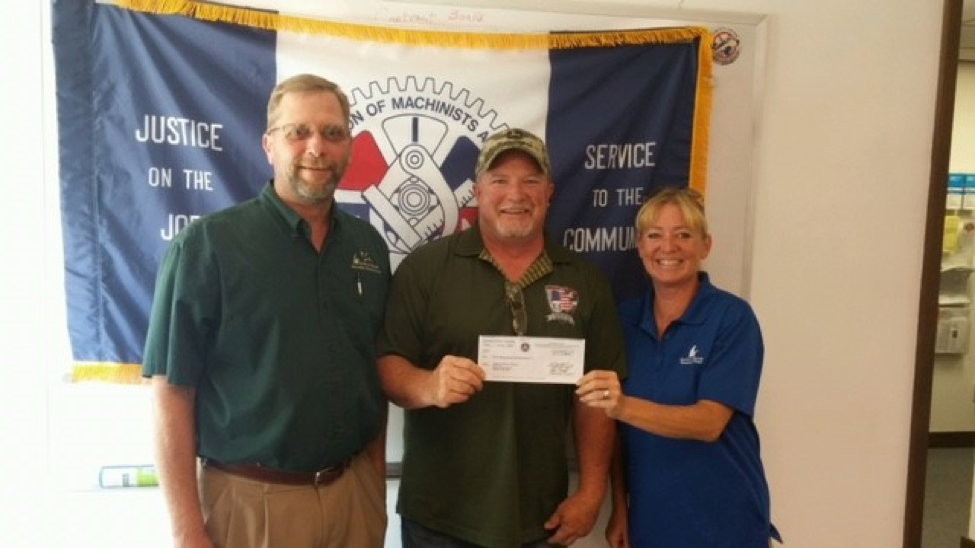 IAM Local 873 Plant Committeeman Bryan Trotter, center, presents organizers for the Horicon Marsh Veterans Hunt in Horicon, WI with a $2,000 donation on behalf of the International Association of Machinists.
IAM International President Bob Martinez recently donated $2,000 in support of an IAM Local 873-supported community service event for veterans.
Martinez learned of the Horicon Marsh Veterans Hunt during a recent visit with IAM Local 873 members at the John Deere plant in Horicon, WI.
"During the International President's visit, we discussed some of the many charitable donations that the Local Lodge participates in during the course of the year to serve our local community," said IAM Local 873 Shop Committee Chairman Nick Bednarek. "One of the discussions was around the Local donating the use of the 873 Union Hall for the Horicon Marsh Veterans Hunt every year. We discussed how this hunt is an event for current, active, retired and disabled veterans. We also talked about the many IAM members that volunteer their time to service and provide for these vets – all at no cost to the veterans."
IAM volunteers include Local 873 members James Jongebloed, Bob Mallon, Dusty Bensley, Jeremy Gonzalez, John Schwartz (retired) and Bryan Trotter as guides, Matt Grabarkiewicz for food prep, and Theresa Wagner for set-up, food service, donations and hospitality.
"Not knowing President Martinez is a vet himself, we provided him some literature on the event, as per his request," said Bednarek. "It is with incredible pride and gratitude that I report that a $2,000 donation was made from the International to help this great cause."
"I am honored to be able to make this donation to help the veterans here on behalf of the IAM," said Martinez. "It warms my heart to see the good work Local 873 member volunteers do for the veterans who travel to Horicon from across the United States."
This year's event is scheduled to take place on October 20-22, 2017.
"This is more than a hunt," reads the hunt organizers' GoFundMe page from last year. "It's healing. It's camaraderie. And it's our chance to give veterans a weekend together – an escape from daily rigors… But we couldn't do it alone. Our community comes together to volunteer time, energy and resources to give a first-class experience to vets from throughout the U.S."
"On behalf of IAM Local 873 and the IAM Midwest Territory, I would like to thank the International President for his kind and generous donation to this very special event," said IAM Midwest Territory General Vice President Philip J. Gruber. "I'm especially proud of our Local 873 members and their dedication to their community. Thank you for all that you do."
Would you like to help out? Click here to donate to the 2017 Horicon Marsh Veterans Hunt.
The post IAM Donates $2K to Horicon, Wisconsin Veteran Event appeared first on IAMAW.
Source:: iMail